I put a Glockenclang in my SIMs testbed bass for this very reason, haha. Wanted to hear what the pickups sounded like.
What I bought was a Rumble 40 cause I wasn't so sure about the whole bass thing, it was really a side thing to sax (now it is a bit more than the sax side, goes back and forth).
Then I traded that for a Studio 40 to try all the flavors of amps over time.
I was heavily leaning to an old school B15N and an Ampeg SVT (cover two bases), but found myself playing the GK sim the most, the cleanest one on the Studio 40.
So after a lot of great advice here, I realized I want clean so I can hear each bass/pickup/string combo for what it is, and then color the crap out of it later.
I picked a Bergantino B|Amp and was going to get their 12" cab, but instead went for a Fearless F112. I was side by siding them for about an hour, both were amazing in a slightly different way, but ended up picking the Fearless. Also, the Fearless can be used as a monitor, and can be angled on its long side up at you. It is a very impressive cab.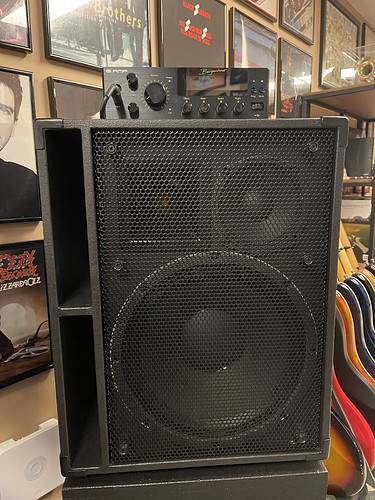 I have a VT Bass DI to turn it into the B15N or SVT and that works super well.
I would LOVE to put a 2x10 on top of this but have zero need or use for this.