Last of the year, bring your egg nog!
Tonight and tomorrow morning I'm going to see if I can get my new mixer and mic to work with the computer for the hang.
I hate egg nog. Can I bring beer instead?
I won't be able to make it (again!). Oldest granddaughter's birthday party starts at the same time.
Miss you all and hope everyone is safe and well.
Happy Holidays!!
Damn @JDDaniel I've been missing you on these live hangs. Grandkids birthday parties trump live hangs though, so you do what ya gotta do


See ya on the next one!
Been missing you too @PamPurrs and the rest of the gang.
For a lame movie quote, "I'll be back."
Bummer man, January! Hope all is well.
Never did one of these, would be cool but im not at all knowledgeable on this stuff, and what is UTC?
You don't have to be knowledgeable about anything, we just chat, talk bass and get to know each other.
UTC is the newer name for Greenwich Mean Time. It's the best way for everyone to know what time the meet is.
UTC 21:00 is 4:00pm eastern standard time in USA, you can Google other areas.
Drats! I have to work today. Will try to sign on if I can.
Nice turnout today, so good to see everyone and new faces too.
From Australia to all 4 US Time Zone, to Poland to Bahrein and parts in between.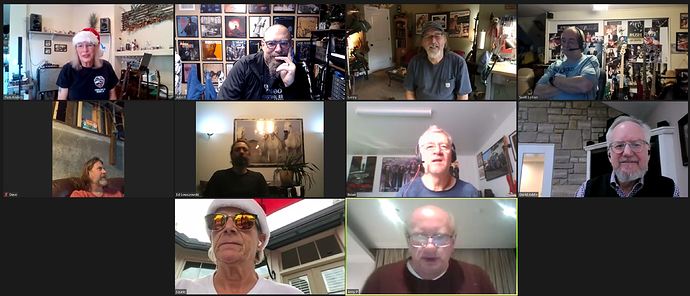 That was a lot of fun! I need to do some camera adjustments for next time though

Was good to join in and catch up with some old (and some new) folks…. Hopefully I'll be able to post more on the forum now that winter is starting to set in and deer season is winding down….
Keep On Thumpin'!
Lanny
You've been somewhat the guru when it comes to audio interfaces…is there any TRS cords that are better than others when it comes to hooking the interface to a mixer?
Thanks for tolerating my fly on the wall presence. I had promised some game time with my daughter and appreciated the chance to listen in. Hope everyone has a terrific holiday season!
My advise when it comes to cables (or wiring) of any sort is to get the best the YOU can afford. Also, when it comes to wiring everything together, always use the same quality (type/brand) of cables throughout. Always use the shortest length of cable possible, but be sure that when you are powering something like amplified studio monitors (stereo), those cables should be the same length.
Just what works for me…. Hell, what ever works is better than nothing…
Keep On Thumpin'!
Lanny
At this point all I've bought is XLR cables for the mic and the bass to run to the mixer, and they're the same brand, but looking on Amazon, I haven't been able to find that exact brand for the TRS.
When people @TNKA36 are looking for studio monitors I always suggest listening to:
For low frequencies they are better than most other 5.25" with the trade off that they won't go very loud unless you give that up.
I used to work in the same building with the engineer who designed these. They measure these extensively and publish test results that most competition won't. They are very clean for monitoring purposes.
Worth a listen anyway if they are available someplace.
Haha…. Got to see your unfinished basement,… the tape and mud work in another room,… one of your girls make a face at the camera when she was walking across the room, any you doing something with a sack load of cauliflower…
Will check them out Dave @DaveT


Cheers Brian