I have no idea what's going on.
Any thoughts on the Gio GSR200 for this?
I think you are in the same pew as the Affinity.
There's a used black one at GC for $144, about the same price as you can find the Affinity.
Cheaper on other sites, cheaper still locally on FB etc if you are in an area that has them (no tax). Affinitys are everywhere around NYC Craigslist and FB marketplace.
I think in this price range you are picking something you like to look at.
Sorry, but I've seen this mentioned a couple of times now - what does it mean?
Basically computer scans your neck and frets then goes and trims the frets to optimum value.
Easy answer: Fender branding

In their review of it, I think the only big complaints @JoshFossgreen and @Gio had about it were the electronics, specifically the bass boost.
Which isn't a problem for your idea here.
oh sorry, so the logo thing doesn't work anymore, but that's strange that your Jaguar doesn't have a "affiniy" logo too …
Maybe because it's from China, not Indoesia like the others?
Mine started as an affinity PJ but i got a bit carried away. Custom 62 pickups, Black Babicz bridge, P bass Fender neck, Black Schaller tuners and strap locks, black pick guard and knobs. Next up will be a black nut. Thought about black strings but I sometimes use a pick.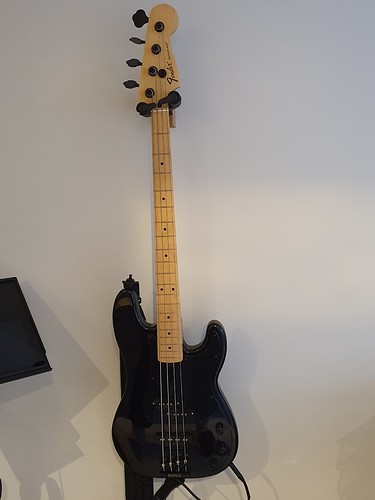 Hey @alexmorrison14 , really nice upgrade
Do you enjoy the Babicz bridge?
This would be the next bass I would pick up to upgrade. This aside from the Ray4 just seem like they are made to upgrade.
Unless you are thinking of going a step further and rout out pick up pockets, or change some of the pockets with. A router to put different stylepick ups in.
the GIO. GSR. Is a P/J. Upgrading pick ups is fine, but it would be cooler to change it to. P / soapbar H pick up or P / MM pick up, or even dual MM H pick ups or dual Soap Bar pick ups like in someother SR lines. As far as just replacing the electroncs, of the 3, I feel the GIO is not as good as the others startingn out, and with MM pick ups, there are o many to choose ffrom, and they act so differently with different preamps, so there are many many many different sounds and tonal ranges you can get from the Ray4, or the Squire Affinity Jag H. The Jag H is passive as far as I can reall, so modding it with a. Pre-amp would be part of the mod process, along with adding the battery with the pre-amp. Some electronics cavitites are well big eenough to fit the battery, others, you will nneed to route a separate pocet for the battery box to fit into and run the wires across.
I've done so many super Squier built it's fun. It's funny I'm not a guitar player but I've done even more Squier Stratocaster super built. From practical to ridiculous, it's an accelerated crash course for me. Now I'm not as nervous working on my highend axes.
I'd go with new but good deal Squier affinity PJ, I've got one scratch and dent. If you don't want to work on the neck and frets it's not a bad idea to plek it. Fender family of bass are better route to go because it's less guess work when it comes to hardware. Since they are modular most parts fits together like Lego pieces. Since it cheaper if you do decide to go i when artist theme you can do it to. I started on my Palladino p bass, it was fun.
One of the option you might eat to consider is a $350(shipped) roasted maple neck upgrade. About couple dozen pass through my hand and so far none required additional work. Keep the existing neck if you do decide to sell just swap it out. Pleking around my area is about $200 so fo me it was a no brainer it cost the same as a Squier neck plus the cost of pleking.
If you are entertaining the Non Fender bass idea then I'd recommend Tobias Toby, I know it's jazz setup but they are great basses. Light weight and more importantly asymmetrical neck, similar feel to the real Tobias for the same price as the affinity series. The electronics got to go though. I have one but didn't have time to do that project yet. Already have all of the components to upgrade but got to get down to work on the bass.
If you have a budget in mind let me know I'll share my thoughts with you. Disclaimer, I cut ties with Hipshot so I won't be using any of their products going forward but there are plenty of options.

That's what I'm talking about!
@DaveT I say go with the Affinity.
If you hate it you don't have much in.
I appreciate your insight! I have no problem getting out the router.
This is all fabulous information. I really appreciate it. My budget is going to be what I can sell my Fender American Performer for, preferably less.
I would recommend a different route.
I'll recommend going with high-tier Cort (ie: A4 Ultra Ash).
Out of the box, you have Fishman fluence soapbars (these pickups are awesome), hipshot bridge, and tuners.
Cort basses are not that expensive, since they are manufacturers for all the big brands (Fender included), so you get the most value from your buck.
You can even change the pickups (but I think you will really like the Fluence) or pre-amp for something else.
I like gear research. I'll check it out.