So, I'm trying to track down and stop a bad buzzing in my Fender Deluxe Dimension. It picks up a lot of interference from devices around my "rehearsal space", but it just buzzes bad in and of itself.
Here's what I know:
Even with no external interference, it has a bad electronic buzz.
The buzzing goes away when I touch the strings, bridge, or pots.
From my understanding, that sounds like a shielding issue. At one point I had opened the electronics cavity and shielded the entire thing with copper tape, and grounded that, but it didn't help. I did not tape the pickup cavity, because the pickup didn't want to come out and I didn't want to force it. I've since removed the tape.
Here's what else I know:
The buzzing gets worse when I touch the pickup screws (but only the pickup screws).
From my understanding, if the buzzing gets worse when you touch an item, it's a grounding issue. But I have since removed the pickup; it's completely sealed and the screws don't touch anything except for the pickup housing and the wood of the guitar.
Here's what else I know:
I have tested the ground from the bridge to the jack, and it is good.
I have tested the ground across the pots to the jack, and it is good.
So I'm completely at a loss.
It's currently sitting here with all the electronics pulled. Here are pictures of the pickup and electronics cavities: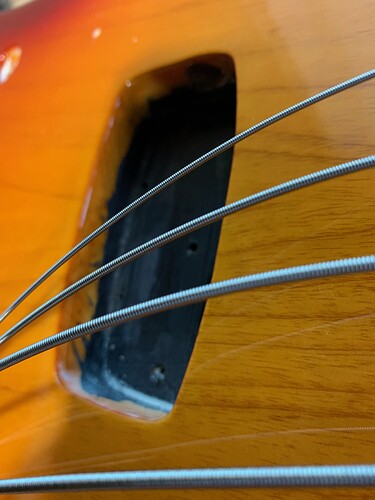 It looks like the black is shielding paint. So, I'm thinking my next step is to get some shielding paint and coat the entirety of both cavities and the path between them. If I do that, does the paint need to be grounded? If so… how?
Any other feedback or suggestions are more than welcome.