These are Dutch. The brand is called 'Forged'.
They've got some awesome stuff.
My first brisket for 2021, onto the smoker at midnight, happy new year,
9 1/2 hours in, looking good
Should be ready for lunch😎
Cheers Brian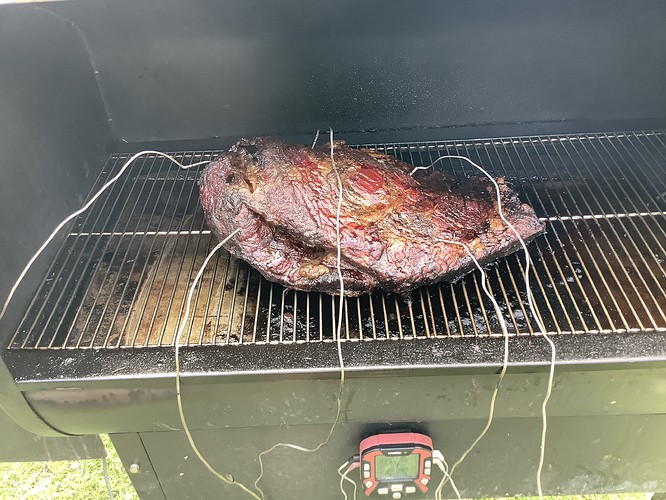 That looks like the best possible way to start a new year.
I need to find a place that does decent brisket here. There's an awesome BBQ place but it is more Carolina style. I want me a good Texas style brisket.
I did get a batch of smoked chicken from my Father in law yesterday though, and it's great. Hmm, maybe we should try a brisket in his smoker.
Looks delicious, Brian…
You should, out of sheer altruism, vacuum-package part of it and send it to Denmark. If it could be here by tomorrow evening, I'd appreciate it
No problems Joerg😁 @joergkutter,
Do want a side of coleslaw to go with it👍
Cheers Brian
They all look really yummy Frank😁 @frankxconnors
The Boston butt has been on for 10 hours, internal temp is currently 156f, still got a bit to go👍
That's the beautiful thing about my pellet smoker, I can sit inside and practice my bass and just let it do it's thing😎
Cheers Brian
I need to find a source for brisket here. One that won't break the bank. My usual vendor doesn't sell them except as corned. They corn them themselves though so maybe I can work something out.
So, all I can contribute (at least for the time being, this is winter after all) is this fresh loaf of bread just out of the oven. Let it cool down for half an hour and then eat a slice with butter and a pinch of salt - heaven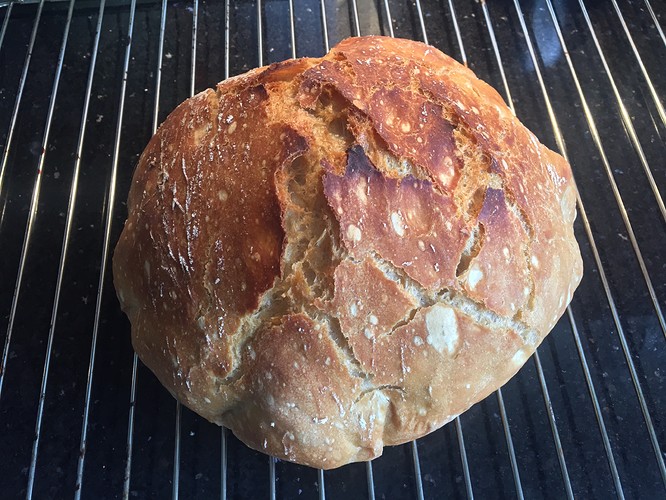 Hey Joerg @joergkutter, that will work really nicely with pulled pork and some slaw

Looks really good


Cheers Brian
I'm really getting hungry now . . . .

Word, Brian
And a nice IPA perhaps…

Yes, don't come to this thread on an empty stomach!!
Had a great meal last night, BBQ Korean beef, Basmati rice, grilled zucchini and a seaweed salad.
Sensational


Cheers Brian
Well, in more normal times when my company isn't furloughed I cook for a living. I'm one of the directors of a corporate and event catering company in the UK, working a lot of the festivals so you can imagine there's not a lot of work around at the moment (but hey, every cloud has a silver lining - that's why I've picked up bass again). I started the company by myself eight years ago but it has grown significantly since then. We do a lot of different food - Malaysian, Thai, Vietnamese, Korean, Cambodian yada yada ya. I like to think some of our dishes are pretty high end such as our Malaysian Beef Rendang served with soured mango garnish and Vietnamese chilli pepper squid with fresh herb salad and pickled vegetables but I have to say it can be frustrating at times. Even at food festivals which are meant to be attended by people who appreciate good food, all that 80% of people want is a burger or fried chicken. Three years ago we decided if we couldn't beat them we'd join them and started a second brand specialising in American Korean 'Fusion' food (I hate that word but that's what it is). Our two best selling dishes are our take on the sloppy joe with Korean Spicing (the closest thing we get to a burger) and KFC (Korean Fried Chicken). Even though this is basically junk food I'm still proud of these dishes because we bring our own original ideas to them. The steak in the sloppy joe is flavoured with Korean spicing and topped with our own recipe lemongrass chilli mayo and the fried chicken is coated with our own special blend of spices (thirteen in ours whereas I believe the colonel cuts corners and makes do with eleven) and topped with our own recipe chilli jam. The jam is so popular that everywhere we go people ask if they can buy it. I'm currently putting my bass down and getting off my ass for long enough to get it lab tested so we can start retailing it.