So, my office/music room is a converted garage. A lot of the electrical in here was done by the former owner who had to sell because of substance abuse problems (I know this because my folks live right next door, and the former owner was a family friend). I've discovered that the electrical in here has some grounding issues and there is a lot of 60 cycle interference floating around. I've gone through a lot of frustration with several different basses and amps to determine that.
That said, I am fairly convinced that my new Dimension has a shielding problem. There is an electrical buzz happening when I'm not touching the strings, which is not 60 cycle related, nor is it faulty-ground-electrical related as it happens in other rooms on other circuits on other amps, where my other basses do not have that problem.
I just cracked it open, and the shielding is… minimal. Here's a pic: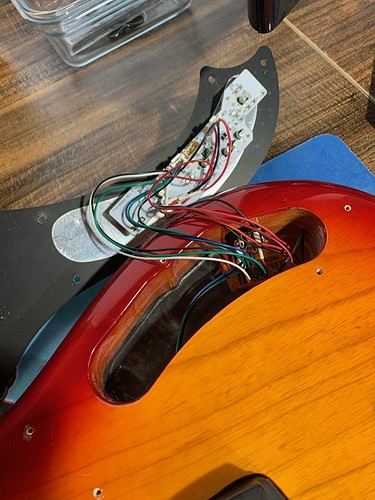 As you can see, the pickguard is only shielded directly around the knobs and preamp, and the electronics cavity is only shielded with shielding paint on the bottom. I have not yet gotten into the pickup cavity, there's something sticky holding it in that I don't want to rip up until I do a bit more research on what it is.
Help me, experts. I have copper shielding tape… should I lay that down to cover the electronics cavity completely? I have a soldering iron, but I'm not good at soldering, but I am good at putting tape down around existing holes so I should be able to put the tape down without having to undo anything.
Also, what about the back of the pickguard?
Finally, should the tape be somehow soldered to ground?
Thanks!