The light blue FGN that @Wombat-metal posted earlier is in consideration as well.
I give them 10 points for making a lefty model, +10 extra points for making it in a color other than black or sunburst. Same length as an Ibanez miKro bass, price is in the same ballpark.
You may laugh @howard but he's down to less than 5000. It's a Jazz desert out there.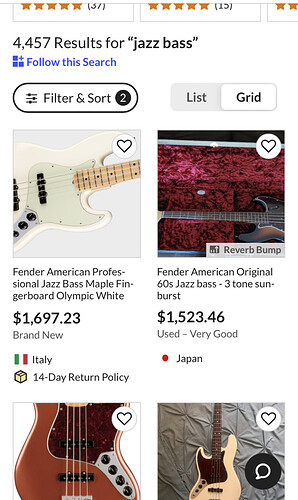 Seriously though, I really like the Bacchus stuff.
Very nice

If I were buying it would very likely be a FujiGen, yeah. Or Fender Japan (which are very likely made by FujiGen). FGN on the headstock is usually a really well priced quality win.
Oh man you got me. I put 40 of the jazz basses in my cart and there's still more, lol.
A little over $1400 USD for something as beautiful as this.
That is nice!
This one Though
Yeah. The Momose basses are technically better but I like the Woodlines more.
U won't be disappointed with a Mike Lull Bass
Bacchus Woodline is an amazing bass. I had the handmade one.
That's the one you want for sure, MIJ Handmade. Their Global line is not bad but is not MIJ.
Hey Barney, let me know how this works out for you with this bass. I'm very interested in this!
Still taking my time and slowly and thoughtfully searching


I love everything about this bass except the Adam Clayton signature model thing.
I almost purchased the Bacchuss Tamo in a 4 string a few months back. That and the Fender Select are my favorite out of what you have shown so far. Please buy at least one of these as it relieves my gas a bit when you spend your money
The Marcus Miller Fender jazz bass really has satisfied everything I wanted in a jazz bass with rounds on it. They are insanely well designed.
If I hadn't bought my old Jazz when I did I would definitely be following @John_E 's lead
If it's a nice bass, well, at least it's not Bono's sig