I am guessing it was the BDI-21? Great pedal, one of the best values in music.
Absolutely agree. It's a hotrod, for sure. Perfect for a guitarist who's expanding his/her musical horizon or for any player who flat out wants to blaze on a killer short scale.
Well I also viewed a LOT of pedal videos (especially after investing into the NUX preamp), and honestly since I started watching Ian Martin Allison's sound videos (love how he recreates the famous bass sounds from famous songs) I wanted to play around with some pedals. Also aiming for cheapest but decent solutions I have ordered two more Monday and should arrive latest Friday:
a compressor: Behringer CL9 (reviews say it does the job well and didn't want to invest ~7x more into an MXR to figure if I need compressor or not, not a slapper (yet) - Behringer CL9 Compressor Limiter – Thomann UK )
then a DOUBLE pedal: the HB Bass Camp (Harley Benton Bass Camp – Thomann UK) which is a chorus (that I really wanted to try) and a filter (that I didn't even think about) it's just on sale now for 60% down so way too cheap to want it even only for the chorus ((that sounds nice in reviews).
and by now I had to roll with some power supply so went for this: Yuer PR-04 Multi-Power Supply – Thomann UK (having a tuner and besides the 2 new pedals besides the preamp but I also have a Lead Foot AB/Y just because why not (wanted to compare the 40th Anniversary and the Sonic P basses I had at the time, latter sold by now). So already 5 pedals - needed to simplify the power issue.
I'll see how the chorus/filter/compressor will play around with my preamp (that also has a drive feature). Still to come at a later stage: envelope filter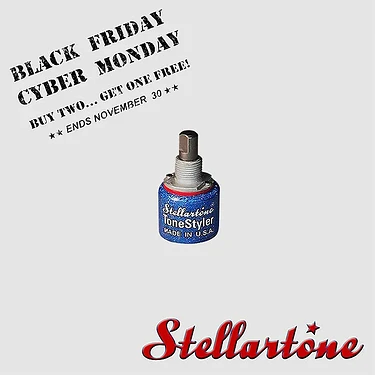 For the Mustang. Want to order pickups to, but waiting for the instrument. Mustang pickups do not have a standard size.
Alternatively maybe put a Novak gold foil in it
I'm glad it wasn't just me

Nope !
I went for the tuner

The compressor is available in France easily
But I'm going down a dangerous route …
Recommendations for guys around here
Never ever try it !
@Al1885, first off Don at Stellartone is really cool
Question for the Mustang, With pickups from Lollar, Novak, Nordy, and Duncan, why did you choose Lollar?
Second, do you know what size the Squier CV pickup is? I'd like to get mine on order
My Mustang was last seen due in February. It shipped today and will be here next week
The Squier VI is out to the end of March still.
They are probably very close when it comes to fabulous tone but Lollar is the only one that offer in 2 sizes. I know that the Nordstrand and Seymour Duncan custom shop are bigger version of the pickup. Both Squier CV and American Performer use the smaller ones. The big one is for something like the Travel guitar TB4.
I wanted the classic nasally punchy tone, I'm pretty sure they can all deliver.
I was leaning towards the Novak. And they do come in two sizes.
The MIJ reissue Mustang has the large ones too
But thanks
Yeah I like Chris's too especially the FAT one. I might get the same, lol.
Well we'll see how it goes. Bass will be here Monday, pickups sometime next week, Stellartone next week too I went for the volume pot too. Now to track down some Hipshots. This will be one hot rodded bass.
And a set of LaBella Mustang strings though maybe I should do tapewounds. Oh well, just strings
I will have an extra Stellartone Tonestyler out of the deal where should it go? Hmmm.
Oh yeah Man!, I'd love to hear some sample of that on the mustang. please keep me update.
Never ever try it !
You mean what exactly to be avoided?

sire U5 short scale bass !
you try it, you'll dream of it, you'll buy it eventually
If you're strong, don't try it
If you've tried it, don't resist, skip the dreaming part and buy it
Not unless they change the headstock
thanks for bringing me reasons to resist !
It's not bad. I thought it looks great.