Ebay has them for $1,660. Too expensive for me.

Ooooooh, nice! If I had a hankering for a P right now, this one would check a lot of boxes
On my, that is quite lovely. I hope it was as majestic in person.
Me too! I got one this week.
Side note: What do you do with all the Sweetwater stickers that come in each order?

I toss the stickers. The candy goes into a bucket for next halloween
I wrap the candy up in them before it disappears.
Kinda late here, but my 2 cents – I have a MIM Fender Player P Bass from 2018 and I love it. Definitely my go-to bass. Slap some La Bella flats on there and you're golden. Retails for $750 on Sweetwater but you can probably find one on sale from smaller shops, or used. I'll probably get an older/more "classic" style P bass at some point but this one is perfect for now.
What stickers? . . . I just look for the candy!

Good grief I hope they miss me.
This forum costs me enough already.
Hahahahah
I got my eye on a Squire Classic Vibe '70s P-Bass in black. We'll see…
I love mine (blonde) For the money it's so solid!
Nice! I also have a Squier VM 70s Jazz, and it's pretty great bang for the buck.
Gearing up for #50-songs-challenge I just (week and a half ago) got in a Zoom B3; the older one with DAI and a DI onboard. Also a Tech21 SansAmp Bass DI V1, and a Roland GoMixer Pro. All on fleabay, and each way below retail. The Zoom seller said it had a mashed in power switch so I talked him down. I mean if I have to open it up and replace parts I ain't payin' full price, right? BUT the switch is in perfect working order!! Score!!
I should be set for a while. Although I've been seriously stalking the Sire basses. I'm gravitating towards the V line rather than the Ps. I have two P clones (rather cheap ones), so a J Bass might be in order.
I love the tonal variations one can get with the pre amp Marcus Miller spec'd. And I also love asymetrical bodies. Does anyone have firsthand knowledge?
Maybe a Fender Rumble Studio 40 somewhere in the future too. Maybe when my industry gets up and running.
You already have effects and amp sims in the Zoom; skip the Studio 40 and go with a Rumble 100, maybe? No need to have those on the amp.
NBD (again - LoL)!!! I've been wanting a short scale and finally pulled the trigger on a Fender Mustang. Was looking at multiple brands but finally decided to keep it in the Fender family since I am "all-in" with them already.
I've got some tinkering to do to figure out the tones, plus install flat-wounds which are on the Fed-Ex truck as we speak, but I played a few riffs, and Another Brick in the Wall from our #50-songs-challenge and she sounds good.
Hope everyone is safe and well and has a great weekend!
PS - Doesn't she look "little" compared to her "big sisters" while on the stand?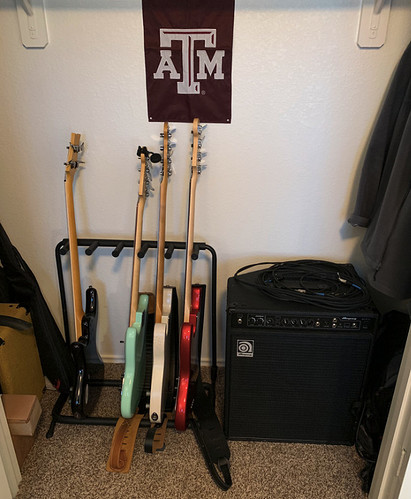 Me too @PamPurrs and @JerryP. I usually very quickly dispatch of "junk mail" but in my case it is sitting on my desk in plain sight and just don't have the heart to trash it. Or, is it that I don't have the willpower? LoL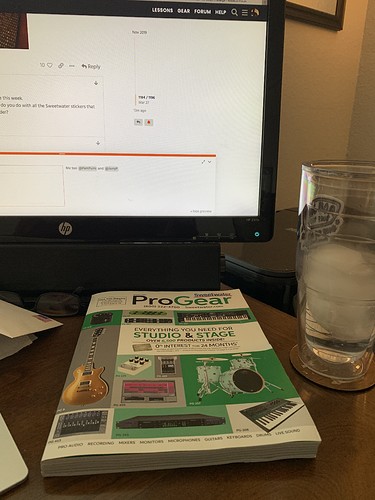 cute little thing @JDDaniel and I love the color !
Me too, @JDDaniel . . .

That's a nice-looking Mustang, and wish you lots of happy playing!
Cheers
Joe
Bon Jour my friend @terb and thanks! I've got my own "Greenie" now.