I've been hanging around these parts of the internet for… well, coming up on a year. My first post here was on July 30, 2021. It was at that point that after years of bass tinkering, I decided that I was going to apply myself to playing bass and start taking it more seriously.
Meh. I've… kind-of done that. I love playing bass, and I love having basses, and I love talking about bass, and I love looking at basses online and I love going to music stores to check out bass gear and so on and so forth. I'm "enrolled" in multiple online bass tutoring programs (here and Fender Play) and I go through "lessons" when I can, but I don't have anything remotely close to a structured, thorough practice schedule. I spend a LOT of time noodling and hacking my way through tabs for songs that I want to play.
But I think, in spite of myself, I'm actually getting better. Recently I'm beginning to feel a marked improvement in my playing. I can play riffs I couldn't play last year. I can play some songs all the way through… which is not something I could ever do. I just didn't have the stamina to pluck or fret consistently for a song's length. It makes me feel good.
Anyway, I don't know why I'm posting this, other than I'm fairly certain I'm with like-minded individuals who have experienced this same thing and can understand the, I dunno, "warm fuzzies" I'm feeling as I look at my playing now as compared to last year. Eventually I'll get the confidence and know-how behind me to record and share some of my playing with you lot, but that time is not now. Heh.
It's been a crazy year. I don't have any of the gear I had when I joined BassBuzz. Here's the picture of my gear from one of my first posts: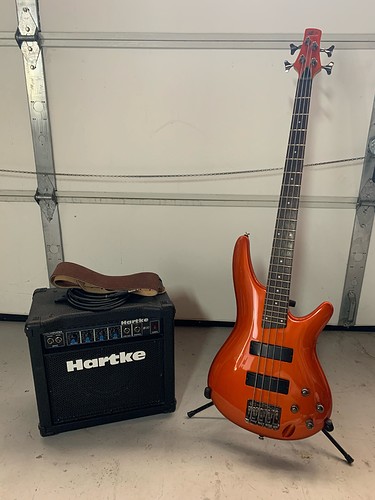 I still have that strap. Nothing else, though. I sold the bass to a kid just looking to start out; I wound up giving him the amp, stand, and cable. I've acquired 12 basses since then and sold 8 of them. I've acquired 4 amps and sold 1 of them.
Anyway, I'm digressing now. I just wanted to share my progress and the happiness that comes with it.