Welcome aboard @iprice1968 ,
Enjoy the ride,
Cheers Brian
Thanks TNKA36 , it's exciting.
Hi all,
Long ago (mid to late '90's) I dabbled with a bass after struggling with a guitar, piano/keyboard and violin thinking I was just going to lay down a few funky grooves and sample the hell out of them.
Well after a very vivid dream a few weeks ago I'm back at it again, this time with lessons… 2 modules in already after 2 days.
Current set up is: (based on the Bassbuzz reviews and recommendations)
Yamaha TRBX304 (found used on reverb dot com)
Fender Rumble 40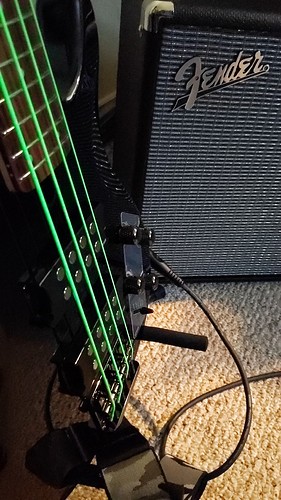 Welcome aboard @ladlesport ,
Enjoy the ride,
Cheers Brian
Thanks for the warm welcome everyone.
Came home from work and I'm cracking to get back at it and start module number 3…
And here I was thinking I'd be in the 6 month plan.
Hey Steve! Welcome!! Curious about how the junior jet SS bass plays and sounds. I keep looking at them but never see any where I live so I can try one out.
With the Junior Jet bass. you et a lot for the price. I prefer the full scale P Bass, but I like this one too. It plays nice. No issues with the set-up off of the shelf. No dead frets. I can recommend it to anyone wanting a short scale. I would like to get a Fender Mustang Player Series bass and compare.
Thanks for the reply! I have shoulder issues so I'm living in the short scale world. I'm in the process of trying to sell my squire affinity jb because it is too uncomfortable to play for more than a few minutes. I will miss her.
I saw an art piece from Andy Warhol that looks very similar to that of @JoshFossgreen 's.

Anyway, I am 51 year old from the Philippines and totally new to any musical instruments and thought of picking up a bass guitar as I like the thumping sound it makes and finding a new and different hobby besides just looking at my computer all the time. I am happy to be here and looking forward to more learnings.

Thanks @TNKA36 . Happy to be here

Welcome @daniel.dumaraos, enjoy the lessons!