I hope so, I've been practicing so hard with different variations so it would feel like an improv, lol.
Gloves?!
Nah, I'm going with mittens from hear on out.
Perfect! Then you don't have to worry about dead rounds anymore either
Dead rounds? Heck you don't even need to worry about muting technique or wrong notes, lol
Win win win…what could possibly go wrong?
Excellent

You joke but, if i remember correctly, @Gio once played in mittens.
Thou dost remember correctly!
It was a Winter Wondergrass set outdoors in Steamboat Springs, Colorado in late February / early March.
It was… very cold.
I was playing bluegrass/americana/folk upright bass - maybe the only genre and instrument that will allow for the muffled inaccuracy that playing in mittens dictates.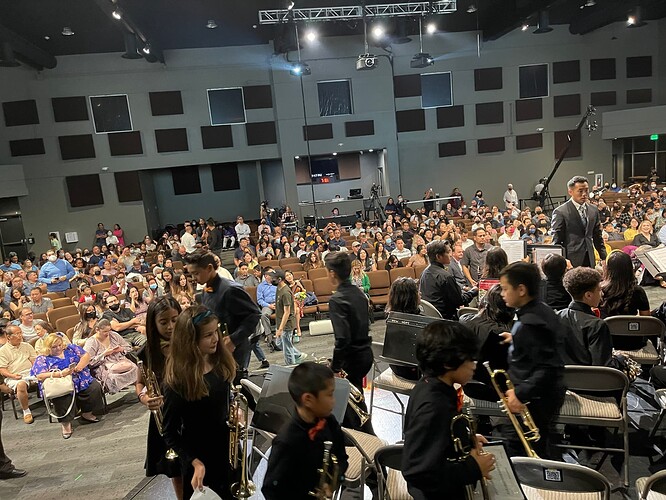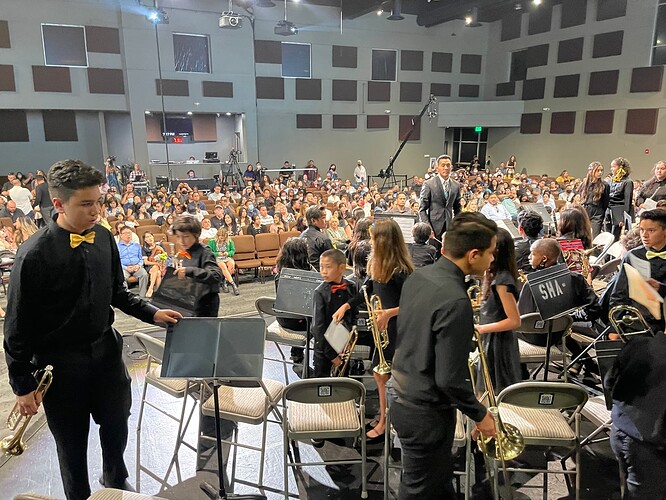 Intermission.
We are the second act but I'm not holding my breath as the sound is centrally control and there's almost half a second lag on each DI. There's no stage monitor I guess people are using the IEM and I didn't bring mine. Hmmm!
The only comfort I got going is that most parents are Tone deaf, lol. The first 2 numbers are slower ones I'm keeping my finger crossed.
Updates. It was a great learning experience for the music teacher directing a live performance off campus sight unseen to him aside from the tour of the facility. Marshall law presented itself proudly and brutally.
Up to the band performance only electric piano were used another teacher on the guitar brought his own amp. So once it's band time they had to clear out 64 chairs from the Ensemble then set up the stage no intermission break. Once every one in position we still had no volume as the sound engineer did give us anything. The music teacher had to ask on the mic for the volume and there it was, my worse nightmare.
There's no direct speaker/monitors to the stage, the long cable through direct box noticeably delay the sound and we(on stage) could only hear the sound that bounced back from the treated back wall. All in all, it takes about half a second from the moment I strung a note, and the volumn was still too low. Hmmm! It was a real fight hearing the immediate sounds from acoustic instruments on stage and hearing the electric instruments moments later. The only thing holding all of us together on the first song was the solo singer, she was a true champ. If she'd stopped at any point, well I don't even want to think about it, lol.
About half way through the song, music teacher said to another, "I can't hear anything and my pitch is off". I looked over at the violinist and we both shook our head scrapping the duet solo. I turned to the stage hand hiding behind the curtain with the headset and told him "you are killing me here, no one can hear anything on stage"
After the first song I told him keep the volume up til you can hear on the stage, and I went pure with muscle memory for the next 5 songs. I just heard the count in and went autopilot. Last song was great as all students sang "This is Amazing Grace" it was an uptempo.
Well I'm dreading the video of this when they put them together, lol. That was my night but the ending was awesome. I took the family and grub some awesome Korean short ribs stew with extra cheese, lol.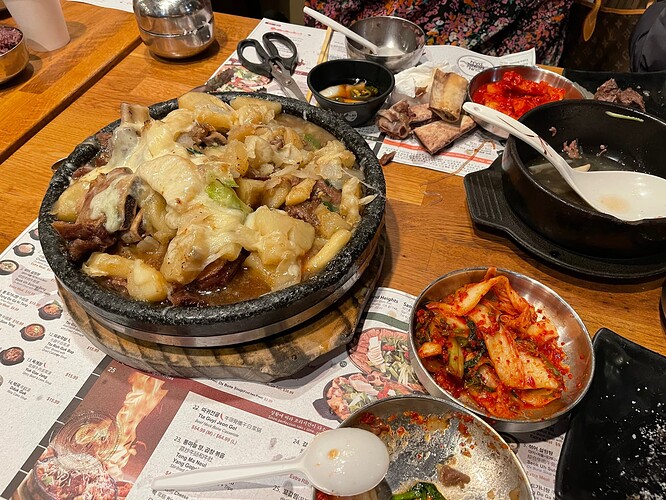 Good to hear you had a good night and sorted the few niggles you had out.
Got to say that stew looks bloody good. It's actually got my belly rumbling

Stew looks fantastic. Kimchee not half bad either

Man i love Korean food. And you came through like a Spartan. Good job, my friend!
I really don't have anything additional to contribute to this topic, but am only adding this comment to annoy @joergkutter

Well, it seems you've got a bit too much idle time on your hands, young lady! No dinner for you

I love your style @PamPurrs

I'm about top try this. My group practiced for four hours one day, then played a four hour event the following day. 8 hours in 2 days…ouch. By the end of the 4 hour gig my right hand fingers were screaming for mercy and it affected my playing. You can bet I'll try a thin glove next time to see if it helps.
Still a glove guy after all this time. I been doing it so long it feels really weird to play without one. I mean, I'll play-but i just really prefer using a glove.
If you're talking about Scott from Scott's bass lessons, he plays with a glove because he has something called focal dystonia. He doesn't talk about it much but from what I understand, focal dystonia causes uncontrollable muscle movements. Having the pressure from the gloves tricks his brain so he can play with out unwanted finger movement.
Personally I've never tried playing with a glove but I like being able to feel the strings so I can be more in tune with my instrument, for example, being ablt to more easily know it's time to change the strings.