Still working on it brother. And I need to work out the recording stuff but I will do it

Wow! Two great covers!
@Lanny That was a fun Jim Croce song. I can't say I've heard that song before but I like it and of course the performance was outstanding as always.
@LesterH I'm not familiar with No Doubt but I liked that song. I was tapping my foot throughout the entire tune. Great job on the cover.
Another nice cover Lester, @LesterH
Happy birthday to your wife, great tone from the bass, sounds good through the amp.
Cheers Brian
I can't get Imovie on my iMac, the OS is too old to install the new iMovie, but I found some other video editors that should work I hope it is as easy.
Can you or anybody else name a good video editor that will work with Mac OS Catalina?
iMovie should work on Catalina - Apple lists it as working on 10.14.6 or later (Catalina is 10.15).
This is just going by Apple's page.
older versions yes, but what you can get from the app store right now, no.
it is the same as GB was and why I had to patch a newer OS on the 2009 imac I got, cuz GB would not load on the one before Catalina. I did not know then that iMovie would not load on catalina.
This is going by my computer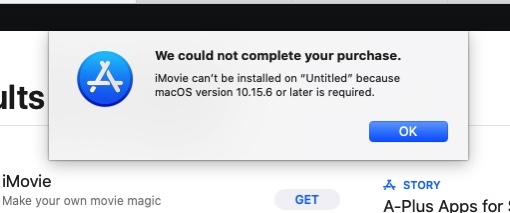 Hm, maybe they are already prepping for MacOS 11 ("big sur"), which should be available within a week or two, I am guessing…
What version of Catalina (10.15) is installed? Might be less than 10.15.6. Might be able to update it.
my friend had the same issue with GB when he took home the iMac loaded with the OS right before Catalina. I found a patcher that lets you load Catalina on older imac's and we installed it and then could download GB from the app store. If I were to find a patcher for the next OS, i would be able to download it, but then i would be getting into risky area with the outdated hardware running the newer OS, and would most certainly get problems with hang ups and restarts. I think it already runs a little slow with the single OS up patch, so I don't want to risk it when I could just get a different video editor, or simply, just post audio clips instead of video clips
This version was patched, I don't want to risk an update if it can't handle it
Catalina is the current version of MacOS. You don't need to patch to the next version of MacOS, just update the existing one. But yeah, if you had to hack this install in in the first place, it's going to be fragile and probably best not to mess with it.
Understood. So your best bet would be to check what the minimum OS version is for Adobe Premier Elements or Lightworks. I've never used either of them, but they are well thought of.
Actually it looks like Premier Elements isn't free. I thought it was, oh well.
Hmm. Looks like VideoPad is in the app store and some people here were talking about liking it. Maybe check that out?
that's what I use. it's an Audacity-like software for video editing : very limited but very simple.
Good to know, I already had downloaded that and one other, but the videoapad looked like the better of the two
Hi there, this is my first cover here!

Would love to know your thoughts.
I started to learn bass with Josh's B2B course about 2,5 years ago and I'm currently working on economy of motion and timing as well as on funky articulation/phrasing.
I can't view it.
But it could be my computer, I may need to restart, so if others can see it, cool. Or look at your privacy settings if others have the same problem.
If Its my computer, I will watch it in a little bit.
Played for me. Love the black and white

Not an easy bassline and your fretting hand dexterity is great! Timing sounded good to me too. Only criticism (and it's minor) is that the bass is mixed a bit high over the backing track and sounded like it might be clipping a bit on the high notes, but that could also be youtube compression. Some great tone there, especially down on the E and A strings!
will restart and watch in a little bit
What @howard said. You're fair flying around that fretboard,easily spanning the frets