That's such a great feature. I wish my DT990s had a replacable cord.
I have a Vox bass amp and it works very well and you can use it just about anywhere.
I've been playing along with the drum machine in this little Vox box almost non-stop since I got it the other day! It is a nice day out so I'm about to go sit outside and practice my bass without lugging my amp out there and pissing off my neighbors. I'm a big fan of it so far.
Thanks to this post, I purchased the AKG K240. I was using earbuds a VOX bass amp. What a difference these headphones make. I sound so much better
. I read the description backwards and thought they came with the large headphone jack I was going to use with my practice amp. But they come with the small headphone jack which was good. I have an adapter somewhere I need to dig up, then I'll try them through my amp. Only negative - my ears sweat with them on.
Welcome to the freedom and reality that is the amPlug.

Just a quick update that I forgot to post. When I got the 240s, I took them out, plugged them in and started playing. When I went back to the box, they came with the adapter. I plugged those headphones into my little Rumble 15 practice Amp and the sound was great. Big step up for me now and the headphone cord is really long (it's actually my guitar cord that stops me from wandering).
Yeah I'm loving the AKG K240's they work great - thanks for the recommendations. The aux cord should be coming in today that'll be a huge difference maker
I am using my Skullcandy Crusher 360 on my AMP in wired mode and that is plain awesome due to the "shake your head" feature they have. you can feel the bass without having detortion on higher notes. can really recommend this.
I will test this as well with the older Skullcandys of my wife but I assume they wont sound so good because their bass implemention muffles other notes.
Good thing is, the 360s have bluetooth as well, so when not practicing, you can enjoy your bass-heavy music

Those are really nice. Do they offer much in the way of isolation?
I have some Bose earbuds that are pretty great but don't help with isolation. I think this was intentional as they were designed for runners.
Josh had mentioned getting headphones for listening rather than monitoring/flat headphones. I didn't listen.
Deciding I needed some isolation for practicing, I tried the Audio Technica ATH-M30x and wasn't very impressed. Instead of going a different direction I decided to double down and order the Audio Technica ATH-M50x. The build quality was much better but I couldn't tell any difference in the sound. And neither sounded as good as my Bose earbuds. They did give good isolation, though.
Something I didn't expect, they both created a lot of pressure in my ears that made them uncomfortable. I don't know if this was due to being closed back headphones, a side affect of providing isolation, or something else completely.
as long as you don't go completely bonkers in case of loudness, others won't get what you are listening too and even though they are closed, at least I can wear them for hours straight without feeling fatigued, the cushions are extremly comfy.
Nevertheless due to that in summer you might feel they isolate your ears a bit too much and you might become sweaty pretty fast.
Same during sports, they have enough clamping force to not fall off or slip around when used as intended, but having your upper body leaning forwards might make them slip off.
Thanks @enkhiel. I don't think I'm quite ready to spend that much on headphones yet. (Those headphones are twice what my current bass cost.) But I will definitely keep them in mind. After the lock in settles down, I'll see if I can find someplace with a demo.
I like open-back headphones for this.
I had the M50x, but it was causing me headaches due to the clamping force. After a lot of research, I got the Sennheiser 599. It's really comfortable and sounds great. To get the most out of it you'll want an audio interface though as it's 80 Ohm. The 598 is very similar. The Beyerdynamics are known for comfort too, but I didn't like that the cables aren't detachable in their mainstream models.
Here's what I got.
https://www.amazon.co.uk/dp/B07Q7S7247/
It is semi-open, which has pros and cons, but I quite like it.
So, I've been using my Bose QC25's, but they're not cutting it for long sessions. My Eustachian tubes get plugged and I start having sinus issues. I'm thinking open back headphones would work better for me and have been looking at the AKG K712 Pro's. A friend swears by them, but he's a gamer and not a bass player. I'm using a Scarlett 2i2 audio interface and a FiiO E10X headphone amp.
Anyone care to comment? I realize they're not inexpensive but I don't mind spending the extra $'s so that's not an issue.
AKG is highly regarded. But choosing headphones can be different from one person to another. I looked them up and they should work as expected with your other equipment.
At that price, they should allow you to hear sound in a way you have never before experienced. If they don't, I would send them back and look for something else.
OK, I'm the "let's try to do this on a shoestring budget" guy.
I have the Bluedio T4S. Got it for around 25 dollars off AliExpress.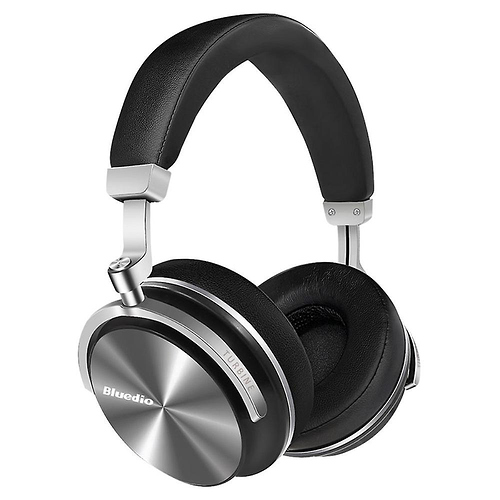 This thing is soooo much better than it ought to be, it's ridiculous.
I also have an AKG (not sure which type; it's an on-ear jobbie). In the ever so important midrange, the Bluedio, which cost a fraction of what I paid for the AKG, is more transparent and sounds a lot roomier – it brings out the "air between the instruments", kind of.
Is it perfect? Nope. You need to eq the bass between 50 and 100 hz down a bit when listening to music. Provided you can do that, it actually sounds better than the AKG.
It also has a replaceable cable, which is nice. And it does Bluetooth, quite commendably.
And it has noise cancelling. Which, to put it politely, sucks. Forget about it.
[EDIT] Oh, I forgot.
DO NOT acquire the Bluedio T4 if you plan to use the Bluetooth connectivity – it suffers from terrible latency!
That's not uncommon and is one of the reasons I prefer wired. Sounds like a nice set!
I hardly ever use mine with Bluetooth – only on the little notebook thingy. But the latency is hardly noticeable. When listening to Josh, I never notice it, actually.
A friend of mine has the expen$$$ive Sony. It does sound better, but you can buy 10 of these for that kind of money, so I gave it a hard pass.
I got the Bluedio because you can also use it wired, and the standard USB-C to 3.5mm jack cable is replaceable for less than 10 euros if it would break.
Off-topic: I just realised I'm probably known for doing everything on a shoestring budget.

I'll probably start a YT channel named "Bass on a Shoestring!"
I read a review that says the input sound is not dispersed, and you hear the left track on the left ear, and the right input in the right ear.
That doesn't sound right. There were many reviews, about 95% were 5 star.
The 3 star and under all seemed to have defective product.
Is it possible the person writing the review had a defective pair, or is that a true statement?
I am considering a pair, but probably not if that is true.