I wanted to see how everybody is doing with gigs…
Here in Houston, it's really, really picking up steam. I'm having a great time, and staying, sometimes, too busy

I've posted before about gigs and how things are going. It feels great to be back at it…especially since I had a few health issues…but, undaunted, moving forward.
I'm really looking forward to this week.
One of our guitar player's dad passed last week, so we're playing a Celebration of Life for him: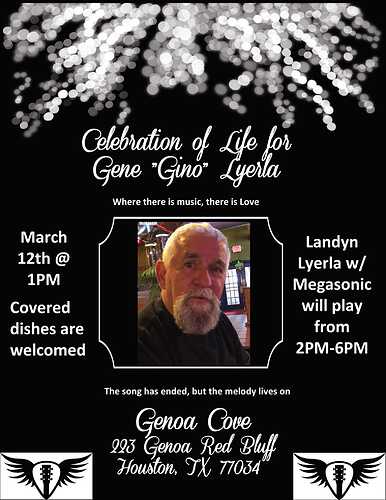 Immediately after, we're playing a gig at The Barn (I've posted about that before):
Here's what we're playing for that:
Hit Me With Your Best Shot
Heart of Glass
So What
Getting you Home
Love Song
Boots are made for walkin
Before He Cheats
Footloose
Feel Like A Woman
Party In The USA
Lights
Your Love
Sex Type Thing
I Love Rock and Roll (Sushi)
Ready to Go
Here for the Party
Misery Business
Everlong
Shine
What's Up
Heartbreaker
Dont Stop Believin
Hotel California
HURRICANE
Neon Moon
Tennessee Whiskey
Play that Funky Music
Dreams
Bark at the Moon
Small Things
Hash Pipe
Possum Kingdom
Plush
Folsom Prison
Friends in Low Places
Purple Rain
Freebird
Then, on Sunday…I'm so stoked to be playing at the Houston Rodeo…we're the band for Bianca Smothers (#20):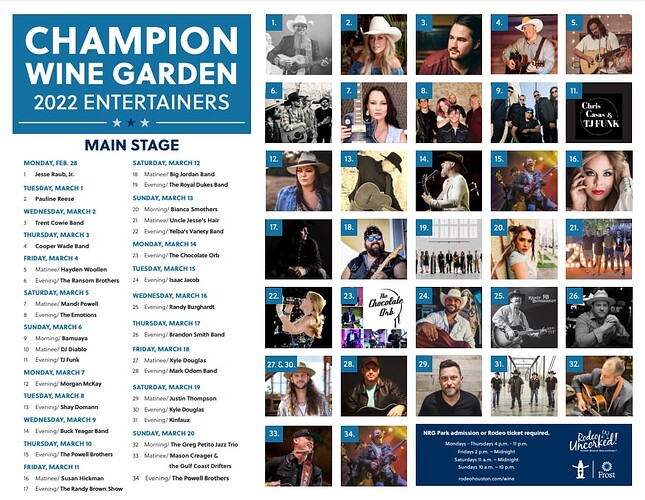 We'll be playing this (with some of Bianca's original material):
I Kissed A Girl
Don't Speak
Don't Start Now
Need You Now
Levitating
Thinkin Bout You
Underneath It All
Dreams
The One That Got Away - Acoustic Version
Man! I Feel Like A Woman!
That's What I Like
If I Ain't Got You
Creepin'
Landslide diff key (SeaSic duet)
Lost Without U
Just Wondering
July
Blame
Ramble On
Stars
Walking On The Moon
Wicked Game
Don't be gone long
Zombie
Always Fallin
You're so Vain
Young
Midnight Sky
She Will Be Loved
Chasing Pavements
Heart Of Glass
Sweater Weather
Sk8er Boi
Yellow
Last Friday Night (T.G.I.F.)
I'm having fun again!