The Sandberg California serie is amazingballs on playability.
$2,855 on soundpure.com (only place offering with a price), black model i cannot find a price for
Not that cheap…

Gregor said that the black one was half the price?
A burst, Gregor? Of all the Sandberg colors you went with the burst?
Because it is modeled after his which is a burst…
I use the DR Pure Blues 45-100 they sound so good with the Sandberg bass
I am getting to a point where I need a string change. I'm still running the Sandberg steels that came on it, and had bought a set of NYXL nickels to replace them, but not sure how much it's going to change the sound. What model Sandberg do you have?
Love the orange, and it sounds great!
I love them, especially on stingrays
Agree with that on both fronts
That is a pretty perfect orange for a bass too
I dig this limited edition run from Basstheworld, crazy expensive too! One for sale at a local music shop for 3299 euros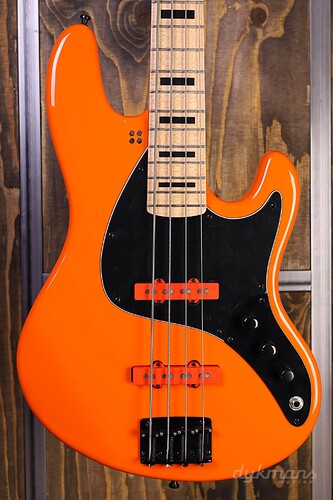 I do love this. The one thing I'd change is the bridge pickup cover to black.
I love the colour of these, but every time I see one I can't help but think that the bridge pickup cover should be black. I know, first world problems.

LOL, I didn't read your comment before posting John.
Agreed, 100%.
I love everything about it other than it's not a pbass, doesn't have a rosewood fingerboard, the neck profile is too flat, the nut too narrow, and doesn't have tort.

Sometimes, you have to compromise