@PeeZee63 - Georgia Bulldogs Fan?? (Noticed the backpack in the photo)
Very nice @PeeZee63 and another beautiful Blue bass today.
I have a Sterling short scale, a Fender Player JB, and a Thomann vintage series '75 JB. I'm really torn now between buying the Fender American Elite or a MusicMan. The color of your Elite is the one I've put on my wish list. How does it play?
I have the Rumble 100. It's a really a super amp, suitable for mid-to-larger venues. The tone capabilities are exceptional and very versatile. The dang thing is the lightest bass amp I've ever had. This was a huge selling quality for me. I think you'll really like the 100. Good luck.
Thanx , i thought i did intro , but maybe didnt do it right , im a little confused .
When you are on a topic section" to post do you hit the reply ? At the 1st post ? Or is there somewhere to post your question/answer/ intro ?
When i was on the intro , i hit reply at the 1st post . Help haha . Im new to forums
You did it right. I just saw it.

You don't have to hit reply on a specific post unless you're replying to that post. If you look at the botom of the page their is an orange highlighted "reply" button to use for just replying to the topic in general. Either way is fine.
Thank you , i guess after a few more posts i will get the hang of it . Technology can be great , but sometimes the simple things in front of your face , confuse us the most .
NBD!
Limping through lessons with pawn shop instruments was getting to be a drag, so I pulled the trigger on a demo Yamaha BB434. It's here, and I'm really digging it. No untoward noises, even with the single coil J pickup solo. The rosewood fretboard is really nice. Here's the glamour shot from Sweetwater. It looks the same at home, just not as glamorous.
Shielding will fix the drama with the RBX and a new jack will fix the Squier. I will donate the Squier and keep the RBX as a backup.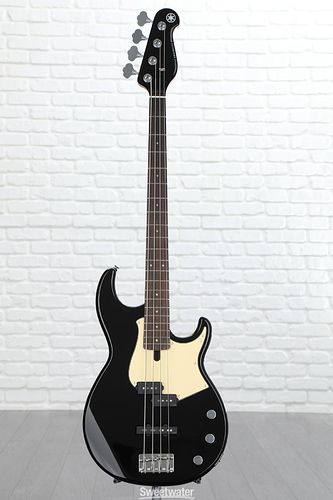 Very nice, @GalleyCat . . .
Wishing you good luck and much happy playing!
Cheers, Joe
WOW… I bet those 53 Pups are hand wound. Nice, loose, and fat as hell sound by now. Must be a joy to play!
So do I
They're not overly expensive either.
Yeah they look great to me too.
Disco-Terb


Ooh, humbucker and P. Nice combo.
Of course, you know what it really needs is…
…LEDs

A 2010 Washburn XB-120 Bantam bass. It sounds and plays pretty good for an "affordable" instrument. It's next to a 1981 G&L F-100.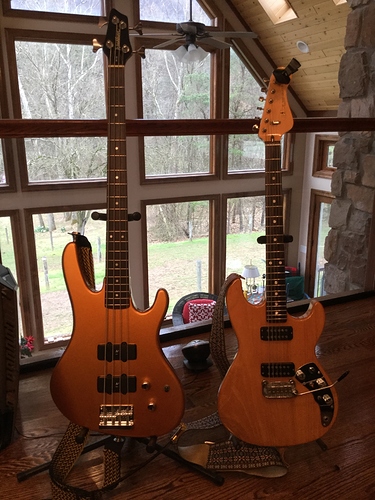 Very nice, @pdfromwv . . . I like that warm color too!
Welcome aboard and see you around the Forums

All best, Joe
Hi Josh,
That Peavy is one of the best looking bases I have ever seen. What year is the 4 string?