Nice. She's a keeper. The wife and the bass.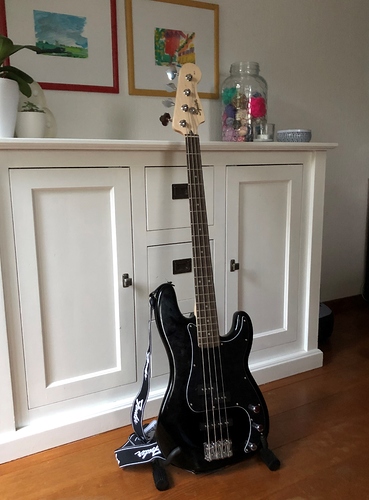 Hi there! My name is Patricia and I'm new here. Started to play two weeks ago and loving it! Should have started years ago… but hey, never too old to learn I guess?
This is my Squier PJ Bass, perfect for my beginner skills. I think it's really badass in all black
@ptreez that IS an awesome looking bass. Welcome to the forum. We need more Bad Ass Bass Gals here!
oh yeah, one more Precision to the world !
Hi @ptreez! I've got the same bass!
I'm normally not a huge fan of black as a color for guitars but that black on black with white trim looks fantastic.
I love that black on black. I'm not always big on black guitars either, but there's just something about that black on black that I love. I'm actually rebuilding an old Squier 51 electric guitar with that same look. Anyways, good luck!
@eric.kiser I tell her that every night! I just need to also tell my wife as well! (JK! I love my wife!)
A lot of us are saying that, @ptreez . . .

Nice looking bass, welcome aboard, and good luck with your lessons!
Cheers, Joe
@TK42DAN Welcome to the BassBuzz forum.
When you have time, join us on the Introduce Yourself! thread.
Also, "Why aren't you at you post?"
Thanks! I'll head over there soon. Juggling a lot right now and trying to finish a few things before I really get stuck in here.
Also, that wasn't me. It was Ken. That guy was always screwing around. I went AWOL ages ago and have been fighting the Empire and all forces of evil ever since. [Yes, I'm developing a backstory in order to separate myself from these horrible sequels and salvage what I can of my beloved childhood trilogy.
]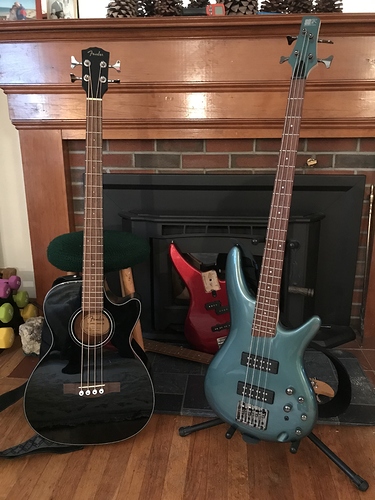 I'm a newbie. My old Yamaha (pictured in the rear) sat in the corner for 14 years. Found B2B and it inspired me to pick it up again. Broke the truss rod having it set up. Kudos to Yamaha!! After 14 years with only a picture I sent to them as evidence, they replaced my Bass! Long story but I got placed on back order and as I was a couple weeks into the course I didn't want to wait. Upgraded a bit to the Ibanez SR300E. Recently purchased the Fender CB60SCE Acoustic. I like them both, the Acoustic is nice when I want to do a little quiet practicing. Sold the Yamaha on craigslist when it arrived. A win-win solution!
Congrats, @bobzak

Very nice looking basses! Good luck with them and with the course.
Cheers, Joe
Not the best pic, but here is mine set up
Ibanez SR370E
Squire Rumble 25
Brown D'Addario strap
D'Addario clip on tuner
GLS Audio 20 FT Brown/Yellow Tweed Cloth Jacket Cable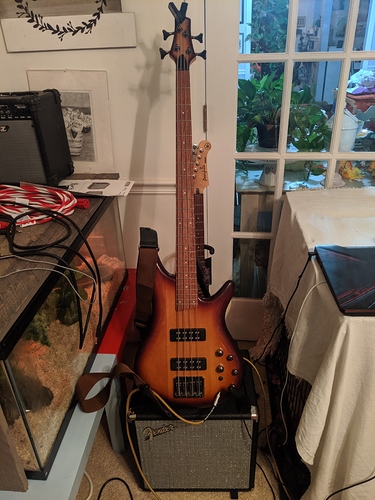 Hiding behind the amp is a Yamaha Pacifica 112 guitar signed by all the guys from P.O.D. that I have had for almost 8 years.
I think I said it before but that SR is gorgeous.
Beautiful coloring on that Ibanez! And great matching set up with the strap and cable!
I love the look of the SR300E it is a very beautiful bass and as a complete newby looks are all I have to go on at the moment
I think the SR will be my first upgrade if I decide to stick with the bass
Paul
While my friend is still waiting for a bass he ordered 3 months ago (and might or might not ever get), I stumbled upon this used (but hardly played) beauty - a 2017 Fender Geddy Lee Jazz bass (MiM) that a guitar player had bought as he set out to learn the bass, but then realized he'd better stick to the thinner strings: