Hi adrian that's lovely.
Welcome aboard
Thanks everyone for the kind words- I look forward to rewarding myself again in about 6 months with a new amp!
I need some of those "traing wheel stickers"
@piper12334 Welcome to the BassBuzz forum. When you have time, join us on the Introduce Yourself! thread.
Also, if you take Josh's class, you won't need those stickers.

Any thoughts on which amp you'll get Adrian?
I haven't really started looking yet (window shopping is half the fun after all) but I'm leaning towards the Fender Rumble 40 with all the various pre-sets and Blue tooth. I'm definitely open to suggestions though.
I'd go for that one.
Because I can't imagine anything better in that group of amps.
Plus I have one.
Did you see Josh's reviw of the non-bluetooth rumble 40?
.
Here is my Yamaha TRBX 604FM
I replaced the default D'Addario strings, with some Ernie Ball Super Slinky Nickel Round Wounds.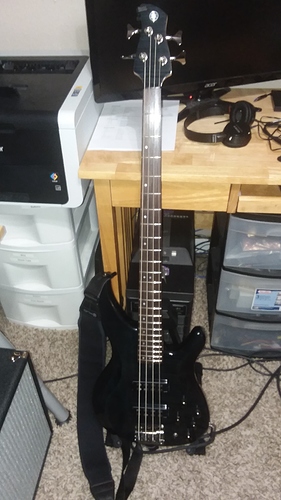 on the left, is my practice amp, the Rumble 40
Sweet! I really love the transparent black 604s and I don't usually like black basses. The maple grain just looks awesome on them.
I love this bass, been super happy with mine. I use the passive mode a lot more than I expected. Great tone.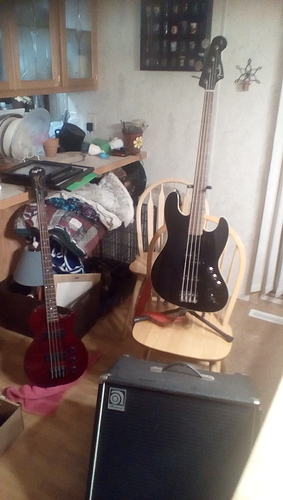 my new fender aerodyne jazz bass and the epiphone Les Paul Special I learned on. The aerodyne was my reward to myself for perseverance any advice on better strings than factory
Beauty look on that Aerodyne! No fret dots makes it extrude confidence.
I personally have been loving the sound and feel of D'addario flat wounds on my short scale.
@Interstatestan That Aerodyne Jazz Bass is one fine looking instrument.
If you want to know about strings, I suggest this thread… Strings.
Thanks you both for the advice. And the compliments
Your house looks almost as untidy as mine.
Actually it's nowhere near as untidy as mine, but a valiant effort nevertheless

Beautiful looking bass, @Interstatestan

Hope you get lots of good use out of it!
Cheers, Joe
Disorder is the nature of the universe(entropy). We are just in tune with… However I am concerned that you are more in tune. Therefore, a glass, some ice cubes etc. I seek your level of disorder
It has happened again. I got a(nother) new bass. The Ibanez AEB5FE-BKN Fretless-Acoustic Electric Bass. This one had a few cool features none the of my others have:
It is fretless
It is short scale (32 inches)
It is…black?
BUT!!!
Before you say anything, this one was freeeeeeee!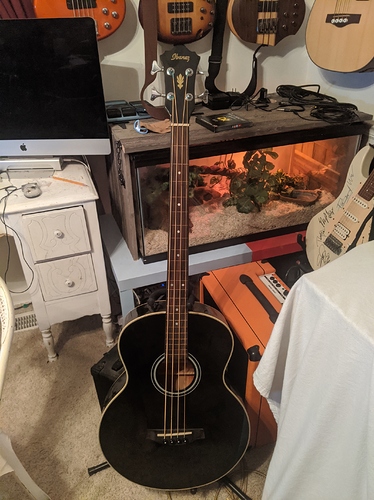 A guy I work with is a real musician. Has a band, gets paid money, has at least one album etc. And he said this was taking up space on his wall and he needed it gone, so I could have it.
But I DIDN'T buy it…
well, if it's free …