yeah, I like both but I prefer the aged-white body color with a black pickguard

and the bass I'm "building" now (based on a crappy P copy I got for free) will look almost like your red one, but with a black pickup cover. and possibly a matching headstock.
So… I'm so new to playing music I'm not even sure where to start with this question but how do you all decide when to buy a new/another bass? I've been in the program for a while dealing with limited practice time (I know - excuses!) and just trying work up my manual dexterity, muscle memory, etc. So I've been playing the same bass all along and I'm not even sure what I'd look for when trying another one. The Dean I have now I bought used with just a basic RMS amp and seems fine to work on basic technique, etc. Thoughts? Thanks!
Welcome aboard mhmraz55 , great question. The time to by another bass is whenever you feel like it- if the one you have now sounds fine to you then fine it is. For me, it took about a year before i could really hear the differences in different basses and my ear is still developing. It was then that my 'starter bass' started to sound a bit 'thin' and I went for an upgrade. You will get tons of advice when it comes to choosing a bass, but the best I heard (from someone wiser somewhere on this forum) was to select the bass that inspires you to practice and play. I hope this helps.
Sounds good.
The pickup on the Candy Apple Red one is a DiMarzio DP122 and the covers can't be taken off those. All my other basses have black pickups
This… +1 bajillion! It doesn't matter what it is as long as it answers to this criteria.
@mhmraz55 Welcome to the BassBuzz forum! When you have time, join us on the Introduce Yourself! thread.
New to the forum! But been watching Josh for about a year now.
49 yrs old and picked the bass back up after not playing since high school. Went overseas after high school, then college, then family…so at 48 yrs old I got the bug now that I have some free time (kids are gone, career going well).
Here is my second bass. First bass is a Ibanez GSRM20 mikro. This second one is my Yamaha TRBX504 for the "full scale" effect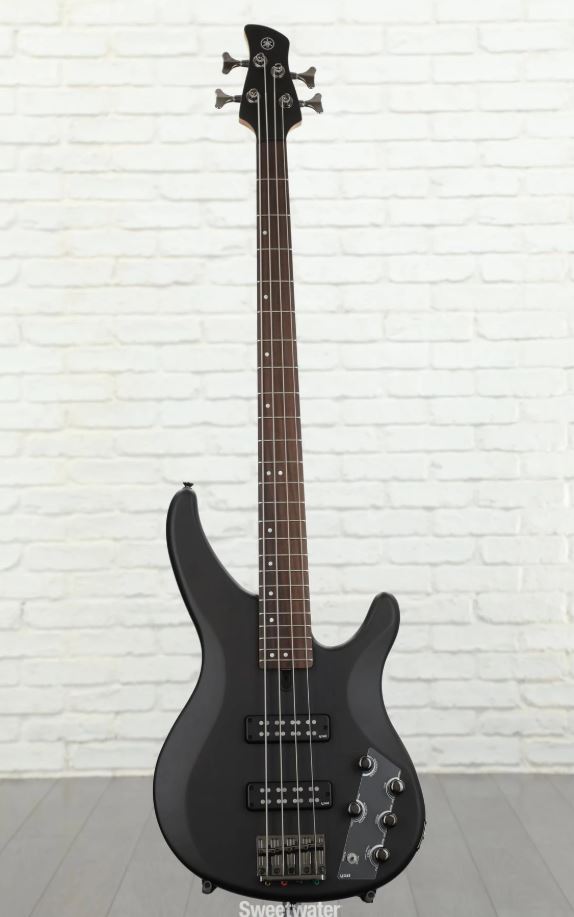 Hey terb… intresting plucking hand position… are you using your pinky to mute strings?? As a beginner that is my biggest challenge is muting strings! This looks like an interesting way to do it!
Nice bass… see mine below…lol
Love my TRBX except I need to get it into a music shop for a good setup and intonation. Have a lot of fret rattle on the 9th thru 12th frets…
Yes really enjoyable to play. Had a similar buzz issue with mine, but a slight tweak of saddle heights at bridge and watching my finger technique seemed to do the trick.
@terb that bass looks like Buttercream.
The picture shows Caleb Scofield, not me

but yeah you can use any finger to mute strings, that's pretty important especially if you use overdrive. also, note that Scofield plays with a pick so the plucking hand position is different than with bare fingers plucking.
Nice, @Lanny - congratulations!
Would you mind explaining to us why you chose this particular bass (having in mind the two you already owned)? I hope this doesn't sound like the Spanish Inquisition - just curious what led you towards this particular bass


Thanks!
I bet he wasn't expecting that.

Touché

@joergkutter - Been looking at going the Yamaha 604 route, but after wrapping my hands and arms around this Ibanez with it's Okoume body, and Jatoba and Walnut neck for the last couple months, it was like "Double Orgasm" man… The tone is somewhat between Alder and Mahogany with a really great midrange; Active/Passive with 3 band EQ; Bridge is very similar to the Badass bridge's that I bought and installed on my Yamaha's; the damn thing is so damn light that I can have it hanging off my shoulder all day long and not know it's even there; well balanced with no neck dive; neck width and thickness similar to my Yamaha's (which I prefer).
Also… Since I live in the country, I only get to go to the nearest (about 100 miles RT) Guitar center about once a month. The trip typically includes major monthly shopping, so my wife always goes so that she can do her monthly grocery, etc shopping.
Because of this, she has spent endless hours sitting on amplifiers in Guitar Center waiting for me to get my monthly fill of playing with almost every one of their available bass guitars. This said, I have always played the same SR500E and raved about it - something I really can't say about any of the others I've always played…
I guess maybe today she just got tired of waiting for me and said, "They're offering a 15% discount today for Cyber Monday… Either shit or get off the gahdamn pot and buy what ever the hell it is that will keep me from having to hang out here any longer!"…
So "Why did I buy what I did?"… I did it to make my wife happy…
Keep on Thumpin'!
Lanny
Love the SR line. Nice choice.
I'll be learning about it @howard… So far though, I'm really impressed… Let's give it time though and see, but what I do know right out of the gate is that with this bass I can actually "FEEL" the vibration of the strings against my body as I play… This is something that I've never experienced before and it is so damn kickass cool!!
Keep on Thumpin'!
Lanny