Good eye, @joergkutter! . . .

It was asantora's Mustang bass
Yes. I love the way that racing stripe compliments the shape of the body.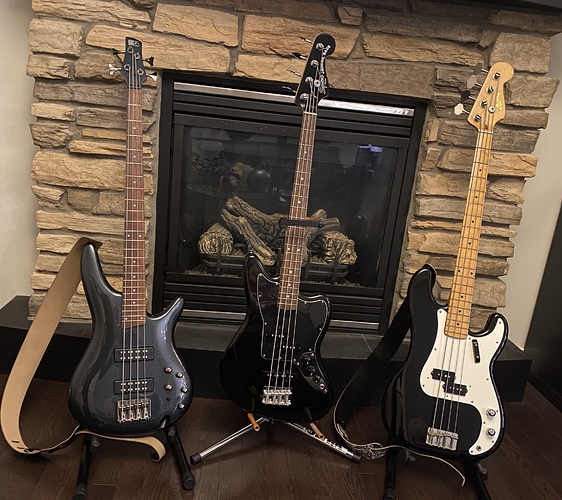 Ibanez SR300E
Squier Vintage Modified Jaguar Special Short Scale
1976 Vintage Rogue (MIJ FujiGen) P bass - (my first bass bought as a teen way back in the 90's)
Very nice! Love the SR, and I was just looking at some FujiGen P-basses the other day. Very high quality basses.
Killer stuff.
And I second what @howard said -
I love the look of that P-bass!!
Thanks for the welcome! I'll be sure to head over and introduce myself.

Just added a new one to the stable…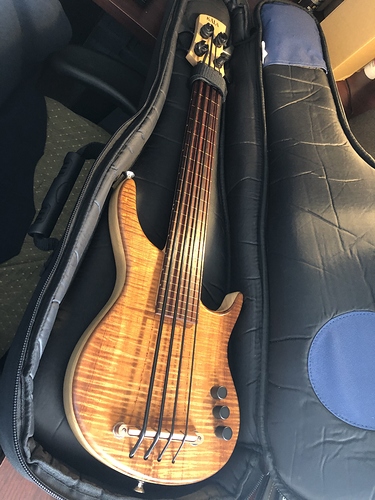 I just can't stop playing it! So much fun…and I am enjoying the challenge of fretless…so far ok…mainly bought it for traveling…
What is it strung with?? It looks like ligaments pulled out of a horse
That's an awesome looking bass you've got there, @allanlamonte!
Wish you lots of fun with it . . .


Cheers, Joe
Those things look super fun.
Thanks guys. You are right @terb it is a Kala solid body Uke. Pretty amazing tone. I was planning on putting wound strings on it, but I am getting used to the rubbery ones.
what is the exact model name ?
It is officially the: KOA 4 STRING FRETLESS CALIFORNIA U-BASS, #UBASS-4KOA-FL…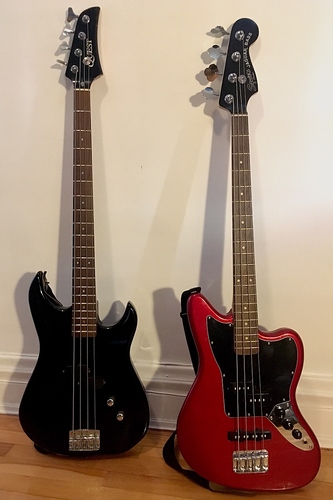 Here are mine;
A Squier Vintage Modified Jaguar SS in candy apple red.
And… the Quest. I picked this up used a couple of years ago for very cheap. From what I can find on the internet it was most likely made in Japan in the '80's by Matsumoku who were the parent company of Aria.
It's a basic p-bass type thing, has nice Gotoh tuners, what looks like good quality wiring and some 80's hair-metal vibe!
This one was barely playable with 10 or 12mm action at the the 12th fret, fret wear, some dead frets, and a dodgy output jack.
I DIY adjusted the neck angle and leveled and re-crowned the frets with only a couple of standard files, a ruler, some sandpaper & masking tape and re-soldered the output and set it up with a new set of med/light pro-steel strings. Action is now 2mm at the 12th fret and the only remaining issue is a scratchy tone pot.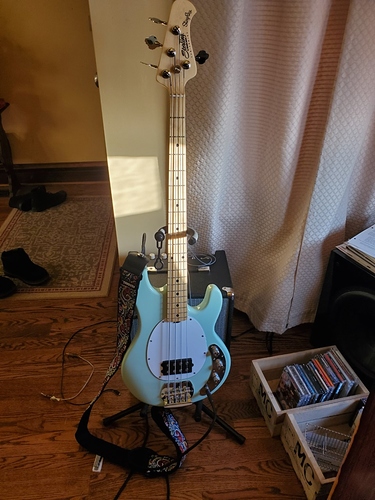 bought this sbmm ray4 when I started the course. I love it! Butttt…
immediately started wondering if I should have bought something else. specifically, the short scale version which is only a little more $$. easy to fix, I said, as tonight I clicked on the link to order it

gonna compare the two when it gets here and someone will get a slightly used ray at a bit of a discount.
Thank you in advance for supporting the excellent used gear market

In truth if I were you I would keep both for a while. I went through a phase where I was convinced I should have gotten a short scale, but as I got used to the long scale, it passed and now I am glad I didn't.
Apparently this is very common.
yeah, in all likelihood that is what I will actually do. because, long term, I have 3 dream basses that I want to own and they are all long scale.
If you're concerned about hand size, don't worry, we all are