Which one is your "go to"?
Hi @numberman2000,
You can't go past either of the P Basses, the tone is wickedly different on both of them, the necks feel heaps different but they just melt in your arms,


The J Bass weighs a ton, I purchased it From Voltage guitars, they used to be on Sunset, but I'm pretty sure Lloyd only has the online shop now?
For looks you can't go past the burgundy glow Rickenbacker.
I love them all they are my family😂
I had just better get my homeland security sorted, when @rory and @mac get released from the stage 4 lockdown in Melbourne, and head over to my place, I could be in trouble?
So fellow Bass Buzzers, if I happen to go missing or you see my family members pop up in various covers in the next few months, and it's not me holding them, you know what's gone on,
Call the National gaurd​:rofl:.


Cheers Brian
Set up done, intonation adjusted, pick up heights adjusted, pickguard swapped and flat wounds on! I love flatwounds, such a pleasure to play!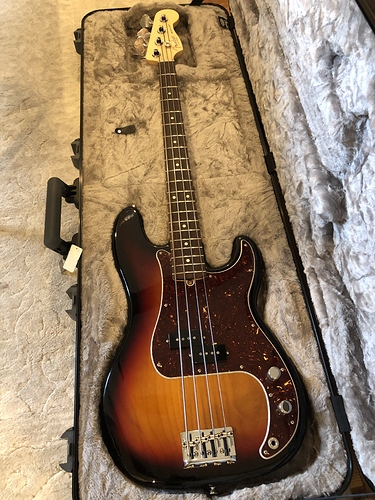 ready to rock @TokyoBoyzClub,
All the best with your new family member.
Cheers Brian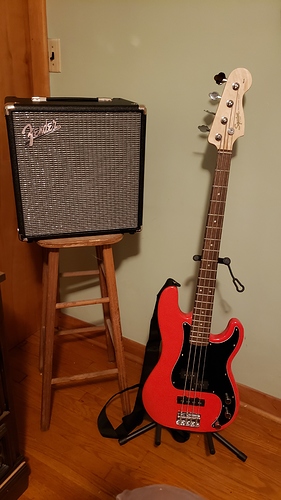 OK Heres my simple Sqiuer PJ and Rumble 25 amp. I had a bass way back in the late 80s When I was in the Marines. Never really learned to play just followed my roommates root chords a bit. Needed a new hobby besides working out and hanging with the grandkids so here we are!
Welcome @Sully3169
Nice set up you have there

Welcome aboard @Sully3169,
enjoy the ride.
Cheers Brian
Like you username

Me too
Awesome fam Brian. What is the very bottom left bass? I like that one, but I have always loved that look, like my B-4E and Josh's Cirrus (which there is one for sale right now with a HSC for $500, Drool…) and some of the Corts that people have shown. I love to see the neck strips follow thru the body under the strings, and woods are just beautiful.
yes, go StingRay and never go back!!!
@b.s.excavations
Brian, guess you glanced past that question.
What bass is in the very bottom left corner of the photo?
Damn Mac he's onto us.
We might just have to go in hard and to hell with the consequences.


Hey Toby, @T_dub it's a custom made from Sydney, I can take some closer pics of the back if you want to see the other side,it weighs a ton😎
The low B gives it a solid bottom end👍
Cheers Brian
It is bass porn, so if you want to post some closer pics, I am down to view them.
It's 10 pm here, will take some over the weekend and send them to ya👍
Surgery shall go well and she is going to play like a dream. Look forward to seeing her in her best. @TokyoBoyzClub
Jamie
Sweet looking bass, @Sully3169 .welcome aboard look fwd to your posts.
Jamie
Wow! @TokyoBoyzClub she sure has the looks and glad she plays at her best.
Jamie