Hey all! As promised, here is my Yamaha TRBX304 and Fender Rumble 40 studio amp setup. I was going to say I had the only candy apple red Yamaha thus far, but saw that Howard posted one really recently; nice!
-Kev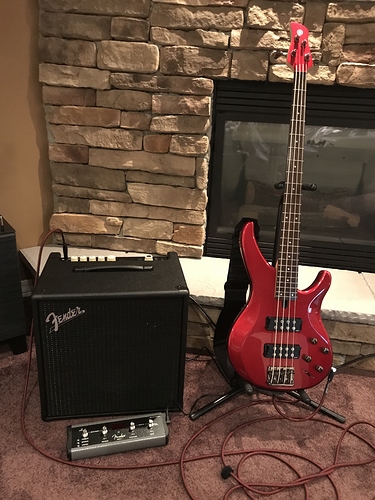 It really is gorgeous. Once I saw one in red, buying it was inevitable.
Mine came set up pretty well, too. The only thing it really needed was lowering the action a bit. Yamaha is pretty solid for quality, I've been a Yamaha fanboy for a long time.
Very nice, @kevwheez . . . you and @howard are like blood brothers, now!

Your Rumble 40 Studio looks pretty intriguing, too . . . some of us have been wondering about that series. I just have the regular Rumble 25 for now.
Good luck with your equipment and happy playing, Joe

Thanks guys!
My 304's neck came a bit out of whack, but luckily have a local guitar store up the street that I had them do a set-up on it for me. Much improved, though I did have to raise the saddle of my E string a bit as it had some fret buzz still.
The studio 40 is incredible! I had an older Fender Mustang 1 amp for for my guitar a few years ago that I think was one of their 1st amps that had the whole slew of selectable "tones" on it. I thought THAT one was intense until I started playing around with this thing - amazing stuff! The fact that it can connect to WiFi to stay updated with new versions/software is really slick.
The right strings and a setup makes such a huge difference… Even just dead strings can turn a "yay" bass into an "ugh" bass, in my experience.
It's implied.


very lovely! Welcome to the forums!
Thanks, Gio! I am quite enjoying my lessons w/Josh and my time on the forum thus far; looking forward to hanging and contributing!
-Kevin
Here's Savannah (yeah, I name all my instruments, lol), a Brice HXB2-406 from Rondo Music. If you're not familiar with Rondo check them out, great quality for the price.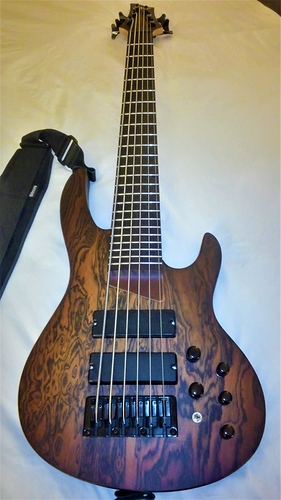 Pretty! And yeah I wanna check out Rondo basses if/when we do a super budget basses review…
I haven't seen their sub-$200 stuff but the few mid-range guitars I've seen (plus this bass and a fan-fret LP copy I own) are excellent for fit/finish and playability. I think Korean guitar manufacturing (at least Rondo's source) is on par now with Japan. I don't know if their cheaper stuff is also Korean made or manufactured to the same quality standards.
I can tell you that Rondo is one of the few companies that will fill a niche when they see it. Need a 10 string fan-fret guitar?

And Orange…
New family portrait. I can't say which bass I love to play more as each one has a unique sound to what ever I am working on. From left to right: Warwick Vampyre, Ibanez Geo, Fender Jazz Elite, Yamaha TRBX 5-string, Martin BCP4.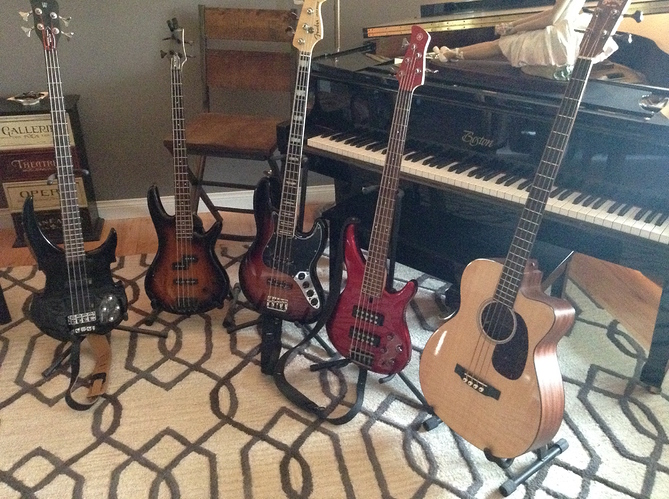 SCORE!!!
Working in Cedar Rapids, Iowa for a couple of weeks and had nothing to do today but sit in my hotel room practicing bass. Decided to take a break and go to the local Guitar Center to see if I could build a 6 string set of flatwounds from a 5 string bass set and one string from a set of guitar flats. No dice, they only had a 4 string set of flats for bass.
So as I was moping around cursing my luck I found this Taylor GS Mini-e Bass…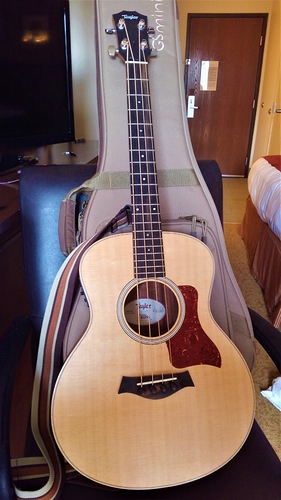 Original price $700 but it was marked down to $250 because one of their employees dropped it, resulting in this…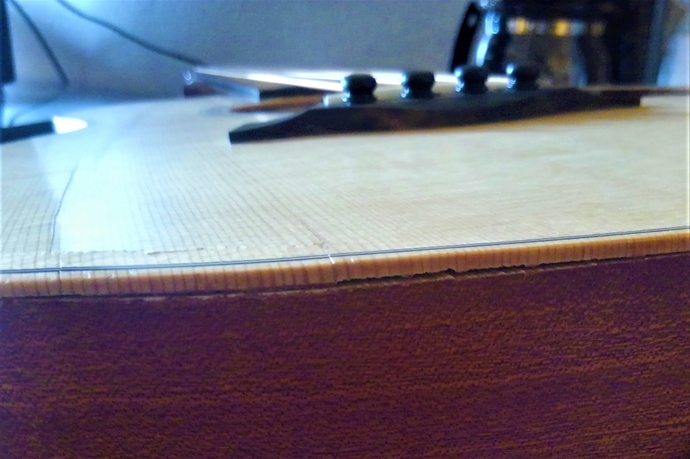 I talked with the manager about it, sobbing about how it would probably cost a couple hundred dollars to repair… and ended up walking out with it for $100. Best of all… I've got the skills to easily repair it myself.

Very nice. Taylor makes nice acoustical instruments.
Damn, nice negotiating! I'm jealous of your repair skills too.

Wow! You got it virtually for free! LOL great job!
Ha! . . . Great catch, @Korrigan!
Good luck with the repairs and wish you lots of happy playing

All best, Joe