Welcome to the forum @xxcody2gunsxx
That's a nice looking set up you have there

Thanks @Mac . I've circulated through a lot of gear over the years and found myself content with what I have now .Although, I do have another Lower Groove Bass being made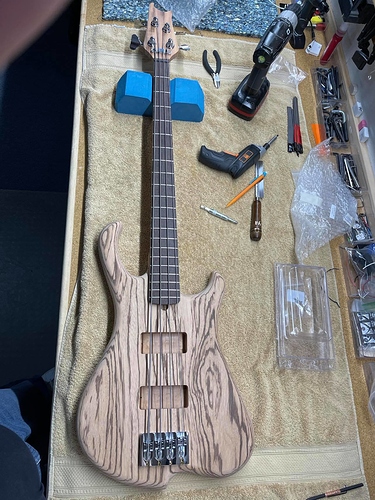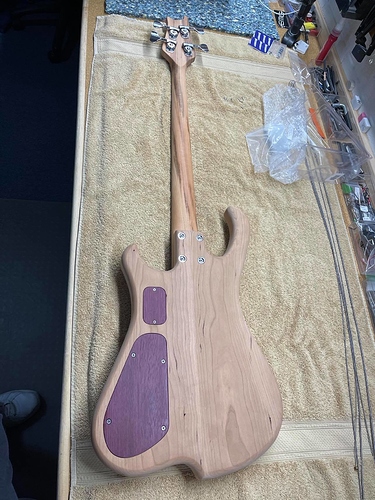 That's a real beauty @xxcody2gunsxx . Bet you can't wait to get your hands on it
@BassBassBass Yes, my pickup does the same. The screw sets the height that it pops back up to if you need to change the distance from the strings. The pickup is held at the highest position the screw allows by the compressible material behind it pushing it up toward the screw head. I haven't taken it apart to see if it actually has a spring back there. It could also be only foam depending on how it's assembled.
Springs like this may sleeve over the screws if it has that:
https://www.stewmac.com/parts-and-hardware/screws-and-springs/humbucker-pickup-height-springs.html
That looks like a Fodera bass but I could be wrong. Actually, I probably am wrong

@BassBassBass Its a Lower Groove bass guitar https://www.lowergrooveguitars.com


Once I've become a bass pro, I'm gonna upgrade to a Squier CV 70s P Bass and a Rumble LT25.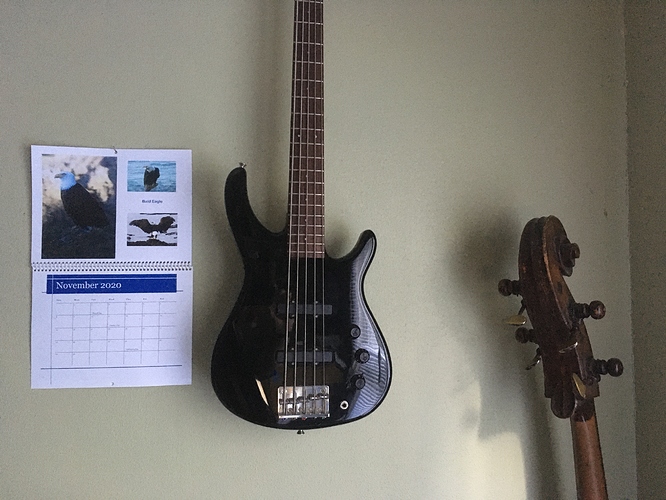 These are both basses that I got a while ago on eBay. The upright is a german instrument with a long string length and a small body, perfect for small groups. It was shipped to me in a gigantic cardboard box on a bus and I picked it up at the bus depot downtown. It is strung with expensive gut strings for "baroque period performance".
Nice looking Ibanez @ Dan Y .
Love my Ibanez
My main instrument, a 2nd hand Yamaha TRB 4-II. I'd like to say that I did loads of research on the best beginner instrument to buy, but honestly I just saw it on Facebook marketplace for a great price and just fell in love with the way it looks.
Instrument number 2 is also a Yamaha, this time a BBN 5-II. Didn't spend any money on this one, it's a loaner from my brother. I don't play it much at the moment but it's nice to have for the occasional moments when I want to mess around with a 5-string.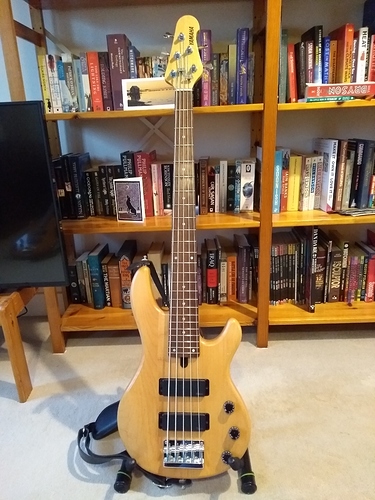 Those are both very nice basses - part of Yamaha's mid tier when they came out, and both MIJ. You're starting with excellent instruments

Thanks. I've had experience with other Yamaha instruments in the past (trumpet and piano) so I figured their basses would be decent quality too. Even their entry-level stuff seems to be solid.
They make really high quality instruments for the price. I've owned three now - my first bass was a TRBX304, my current main bass is a TRBX604, and my guitar is a Pacifica 112. My college bandmate had a BB as well. All have been fantastic.
not a bad strategy
and yeah, Yamaha instruments are impressive, and what is even more impressive is that it works for all their price range. I'm not sure to know any other brand with this consistency all over their range.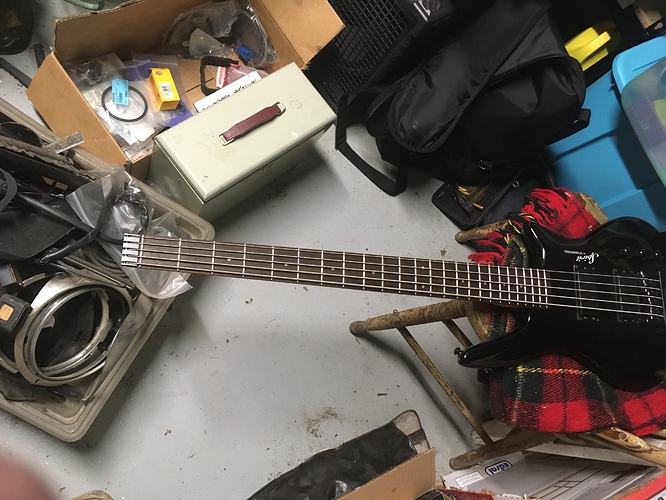 eBay garage bass!
Got this in hopes of dealing with neck dive. I almost only sit with the bass on my leg. While it does balance nicely, it is still a little slippery because the body is kind of small. I wasn't blown away with the sound either. Also the neck is too narrow in one way and too wide in the other. Can't help but love it though in a stray alley cat sense.
It wound up in the garage because I had put an SWR amp out there so the cats wouldn't be able to use it as a scratching post and figured it would be nice to have an instrument with it. Our garage is a separate, over-insulated building. I chose this bass to bring out because it was my cheapest and I can't hang it on the wall. The pic reminds me of a hidden object game (extra points if you can identify any car parts!).
Pardon the pun but it is currently in the shop getting a good (bridge) tuneup.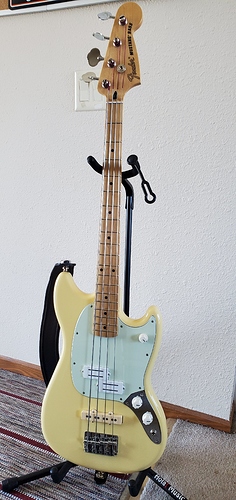 The newest member of the family. A Buttercream Fender Mustang PJ with Dimarzio pickups. I also had my guitar tech replace the pickup selector switch with a blend pot.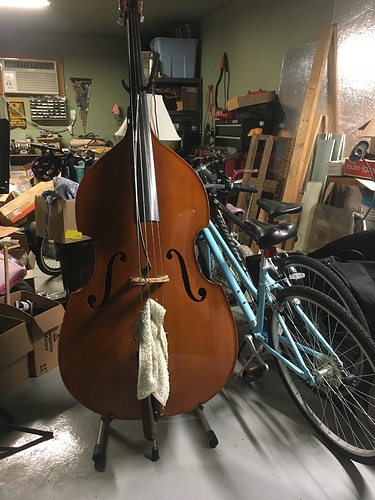 The other eBay garage bass! Seriously. I set up a makeshift "Zoom studio" in the garage so that I can do zoom "concerts" for area Head Start schools. I've been doing this program with a trombonist for years and it has been very successful but it is currently online. So we hung some green tablecloths on the garage door with super strong magnets and cleared a bit of space in front of that.
This bass was very cheap because the seller had no history and was doing pick up only in a very dodgy part of town. I was away when I won the auction and my wife (who was 7 months pregnant at the time) picked it up for me. She loves that story "they were all so nice falling over themselves to help"
This is a "park" instrument. String players usually have a cheap second instrument to take to unfriendly environments. This bass has been played outside, in cramped choir lofts and in classrooms full of little kids that sometimes rush it after the show. Once, while I was tuning it, I watched in horror as a wasp landed on the top and then crawled into one of the F holes. It has taken a lot of abuse without showing hardly a scratch on its oddly high gloss finish ("I can see myself!") It has a carved spruce top and laminate body so it doesn't sound half bad even with the crappy hybrid strings I put on it ages ago.
I do adore it.
Really I do.
seriously, guys, that's not that much a problem. we can live with that.