Is that an Orange amp I see trying to photobomb you bass?
@joeike, who installed the blend pot?
John at JJ Guitar in Omaha. He did the pickups and setup a well. He's really good and very reasonable price wise. Plus, since he owns his own business he takes a lot of pride in his work.
Hello once again. I just wanted to stop by and tell you that I finally got a stand for my bass!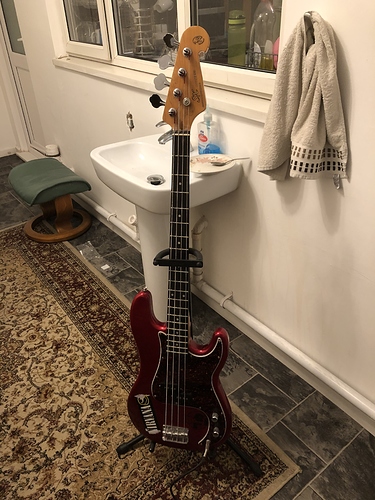 But there's still one more item to go. A gig bag. Hopefully, I'll have one by tomorrow.
In case any beginners are reading, here's my list of essential bass gear.
A bass (obviously)
An amp (obviously)
A cable for the amp (obviously)
A strap
A pick
A guitar stand
A gig bag
A tuner
I thought I would pop in and show you my new bass, first one i have bought… Its a brand new squire paranormal 54 jazz bass so excited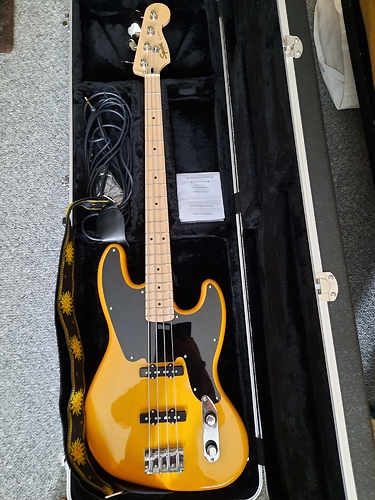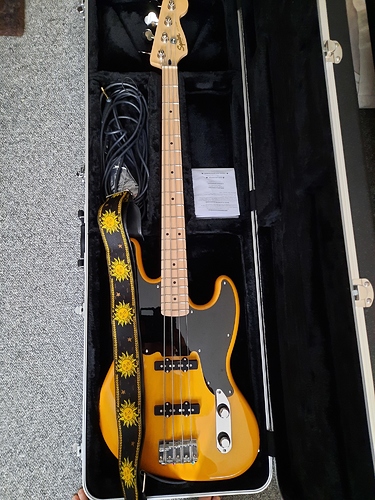 had to show strap as well lol
and thats my orange crush 25 practice amp. I would have probably gone with a totally different setup if i had been on this forum when i was looking to buy but im happy with my purchase and colour schem lol
Very nice, @locket . . .

Wish you good luck with it!
Cheers, Joe
Those are fine choices. Those Orange amps sound great and are super cute.
That's a sexy bass. The color/pic guard/ maple neck look really sharp together. Enjoy!
Nice bass and amp! Enjoy!
This is my first purchase - Yamaha TRBX504.
Despite its' stunning beauty, my wife isn't completely sold on the idea of having some competition for my attention, haha. (slowly, but surely I'll win her over )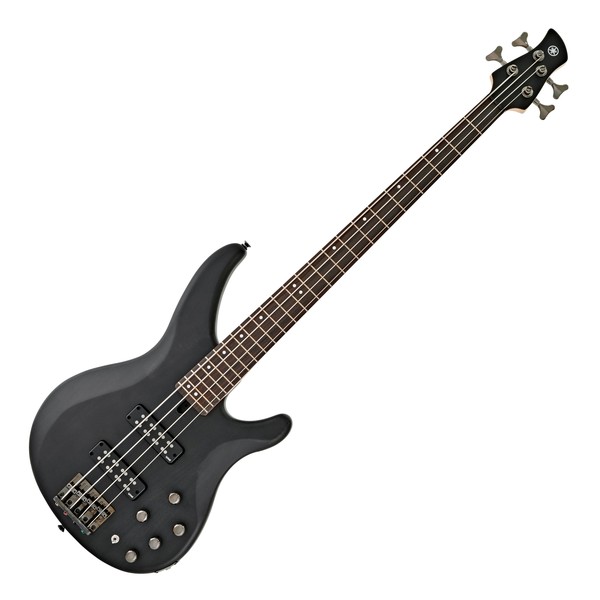 Very nice!
I love the transparent black they used on the 504. It's a lot more subtle and attractive in person than photos make it seem.
@Mr_Bass_Player That's a fine bass and a fine list. Do you have a tuner or do you use an app?
I'm afraid I use an app. I know it's not the best solution right now but it's pretty accurate and I've even been able to notice when my bass isn't in tune. When my wallet isn't empty, I'll get one.
Nothing wrong with that. If it works for you, then it works.
Here are my two basses:
First, here is the Peavey Fury, which I purchased in the late 80's (yes, I am as old as dirt) after college. Then in the late 90's I had it setup and reworked with EMG Active Pickups and by a local professional "Kenny", that used to handle all the setups for some of the best rock bands coming into Tidewater, VA.
I actually went in to buy a Fender P, and trade the Peavey in. Kenny looked at it and asked me "why didn't you just have me set this on up, like I would for any studio musician"…He talked me into it, and I wanted EMG Active Pickups on whichever I purchased or kept. He did a really nice job. It is a joy to play to this day.
(Made in USA

)
Second, here is my 5 string, ESP LTP B-205SM . It has an awesome sound, and active pickups and the EQ make it versatile.
Following Josh's advice, I just put it in the shop today to have it professionally setup. The guy doing it at GC actually knows the guy, "Kenny" that setup my Peavey over 30 years ago. That is something. I feel like it must be destiny. He must be as old as dirt too.
(Specs - https://www.espguitars.com/products/9856-b-205sm-ns )
Truth be known, I still want a Fender Precision one day. But the two I have are more than adequate. I need to improve my skill set quite a bit with these lessons.
I guess the question is "Does Josh know Kenny?"…
Anyway, Josh gives good advice in his lessons - Get your bass setup! Lol
Nice! I love the ESP B-series, great looking basses.
Thank you, @howard
I can hardly wait to get it back after GC sets it up.
It feels good too. Solid, you know and seems to be well made.
@locket104 - Congrats. Very nice looking bass and amp you have. I here the Fender Squire is very well made bass.