@John_E Thank you so much!

When (if) I finish the 1 month bootcamp on time it'll be 4 days before my 22nd anniversary. So by that logic I should get myself an even more expensive bass, right

? Congrats on the bass. I'm pretty confident that I'm not a guy who can limit himself to a single bass, but more power to you if you can do it. I've been eyeing a Stingray. I've narrowed it to a Sub Ray5 (1st 5 string, pretty inexpensive), a Sterling short scale (1st short scale, more expensive), or a Stingray Special (out of my budget but can probably find a good deal on a used one). Here's the color for the new Stingray Specials that I like the most: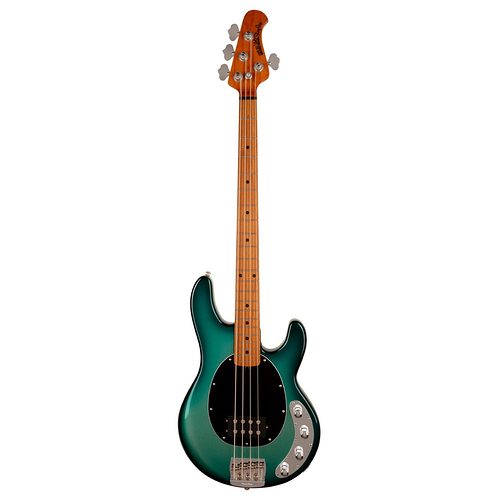 That's a nice looking bass . . . you're right . . great color, too!

Cheers
Joe
Lovely color. Reminds me of tropical beach water.
yeah, that was a fun project. the paint wasn't too bad… the cleat was the hard part. thank you.
I always thought Ricks were set necks, interesting. I love thru necks.
Makes them even more appealing to me.
HA! Good luck with that.
That is so Punk Rock. Fat Mike Approves, I guarantee it. Even Flea probably likes it, but his opinion not as important.
Happy everything, way to roll them all into one bad ass bass.
one of the best basses in that price range. The pick up is the only issue, very hot, sort in an uncontrollable way, or control it by dialing it down all the way. But once ou put a pick up in it, they are more then great basses.
What Easter bunny brought me:)!
And the inspiration to play bass reached a whole new level too with it.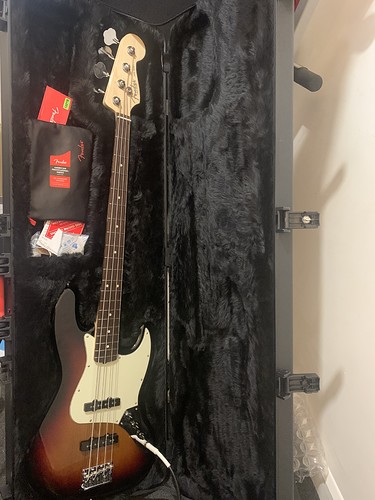 That Easter Bunny has good taste in Jazz Basses . . .

Congrats, and wish you happy playing!
Cheers
Joe
That basket lining is much nicer than straw. Did you have to hunt for it?
Thank you Easter Bunny!

Bok! BOK!

I did yes.

Such a massive egg haha. Best surprise egg ever haha

So happy with it. But not just that. This brings for me bass playing to a whole new level. I can feel how the bass resonates. I kinda was stalling with my practice and decided to go big so I was asking that bunny to help me. Here is the result. It's a massive joy and I recommend to anyone who is into JBs.
Also, it's nice that I can share this here.
Happy Easter and Bass Playing to everyone.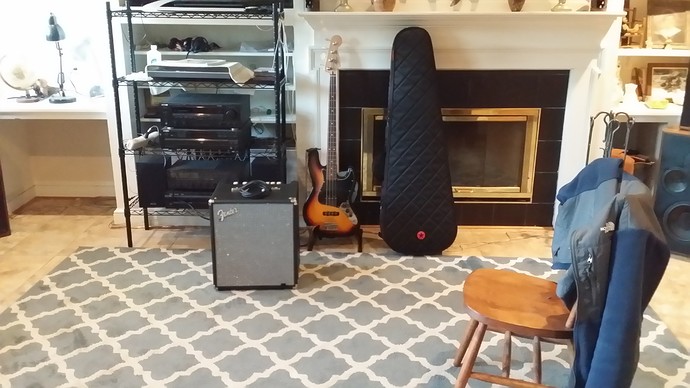 Here is my new friend, Jay, a 2005 Fender Jazz, chillin by the fireplace. Got the Rumble 100. It was only $100 more that the Rumble 40, so I splurged. About the same size and only 2# heavier. Got a Korg tuner/metronome that seems to work fine, but what do I know? I'm just a noooob!
Hey, no Easter Bunny freebies for me. I had to pay for mine! Great minds think alike, and so do we. Nice bass.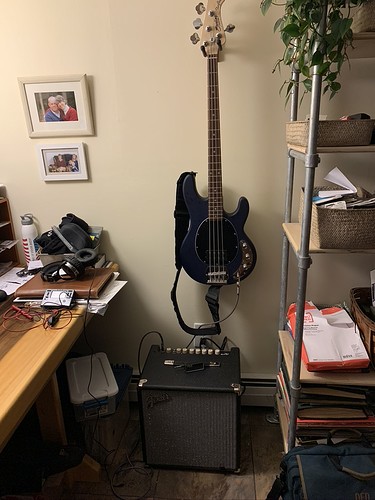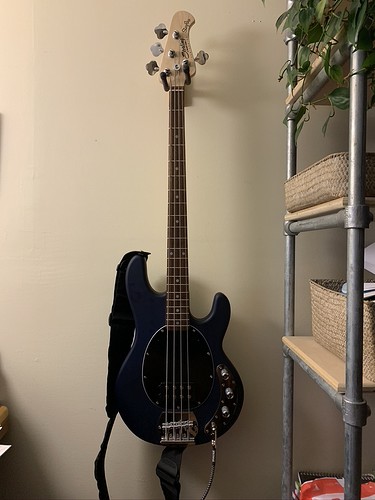 As you can see I took Josh's advice on the amp, but not the bass.
I told myself the budget Stingray wasn't included in Josh's beginner's bass comparison because it had active electronics. Almost went with the Squire Jazz bass - but the simplicity and ruggedness of the Sterling Stingray was the tie breaker. So far I like it alot. The one thing I haven't come to peace yet is the thumb anchor on the humbucker when playing the E-string
Nice choices for your gear.
You've got the right equipment, @Bsharp_aka_Mr_Clean . . .

Cheers
Joe
Hey bass people, meet my happy trio!
Left: Fender Vintera 50s Precision, MIM, Ash, Vintage Blonde, maple neck

Middle: Music Man Stingray Special 4, EBMM, Black, unfinished roasted maple neck

Right: Fender Player Jazz, MIM, Sage Green Metallic, maple neck, pau ferro fretboard
I had started Josh's course playing a very affordable Harley Benton jazz bass with vintage 70s specs which had a really chunky neck (for a jazz bass) and while it sounded great it was just too heavy for me. So after six months, I rewarded myself with this pretty Player Series Jazz Bass. The lovely sage green finish has already been discontinued which makes it even more special to me.

The pickguard is parchment and looks less bright in reality. However, buying it online was quite a journey: Unfortunately, I had to send back two basses before I was happy. The first one had a slightly tilted neck and off-center strings (which I couldn't fix) and the second one had a really jagged pickguard (no idea how it passed quality control). However, I didn't surrender because I liked the sound and color so much and the third one was just fine. It also had a slightly tilted neck but it could be fixed easily by loosening and tightening the neck screws. I guess this happens when you ship basses around the world. It plays wonderfully and is very versatile soundwise. I was able to set it up pretty low, so I can get a clean sound when I play with a light to medium touch and a grittier tone when I dig in more.
Another year later I decided to take a look into the world of p basses:
I first tested one of these Vintera 50s precision basses in a music store and immediately fell in love with its sound. However, they only had it in a flashy seafoam green color which was a bit too extreme for my taste, and they were unable to order any other color. So I had to get it online again but this time I was lucky: It arrived in absolutely perfect condition! Most of all I got a very special member of this species featuring a very beautiful flamed neck, that changes depending on the angle of light (not a standard spec as far as I know):
Also, its vintage blonde finish is slightly translucent so you can see the ash wood grain. Just like the finish of my jazz bass, this color has also been discontinued. I seem to be attracted by the least popular colors.

Regarding playability, I must say that it took me quite some time to get used to the wide p neck after learning to play on a jazz neck for 1.5 years. (Especially, as the Vintera's vintage neck design is exceptionally wide compared to modern p necks.) However, I'm beginning to like p necks more than jazz necks just recently. And while this one is glossy it plays just as smoothly as the satin neck of the player jazz (which is not so satin anymore after playing it for three years). The only real downside to the authentic vintage specs is that you have to take off the neck each time you need to make a trussrod adjustment. But it doesn't bother me too much!

The newest member of my bass family is an Ernie Ball Music Man Stingray Special 4. I bought it used (but in mint condition) from a local music store a few weeks ago:
It features a glorious roasted maple neck which feels very smooth and plays just perfectly! Widthwise it's almost in the middle of my precision and jazz bass, leaning a bit more to the precision side. I just love the Stingray sound and its midrange bite! I've practiced a lot of easier finger funk recently and this stuff is so much fun to play on this beast of a bass! And you can always dial in even more color using the eq knobs.
Admittedly, I might be just as happy with a SUB ray or Ray34 but I just couldn't refuse the offer to get this pretty instrument.

All three basses seem to grow on me each time I use them. They become even more fun to play as my technique improves.

Even though I most likely will become a victim of gear acquisition syndrome a few more times in the future, I have a feeling that all three basses I showed you have the potential to become long-time companions!
And no, I don't have a favorite one, I like to play them all!
Very, very nice collection, @alex.s . . .

It's hard to say which looks the best, but I'll vote for the Jazz . . .

Cheers
Joe
That was unexpected Mr Jazzbass!