Nice collection all around, but wow that roasted maple neck and headstock looks gorgeous!!
good greif those are awesome choices!
So many basses, so little understanding from spouses.
Nice looking family you have there @alex.s.
Very nice family @alex.s,
Cheers Brian
@hokulea2001 Nice looking bass - I have one in sunburst.
A tip: Unplug the cord from the bass when you're not using it, otherwise you'll kill the battery.
Trust me on this one.

Really nice basses! Great photos as well, really like the look of that P bass!
Unplugged.
Thanks so much.
Perfect bass choice, it is easily the best $300 bass available.
Only issue is the extremely hot generic pick up that is wired in series instead of parallel, like a real stingray pick up.
Swap the pick up, you will love it.
I put in an Aguilar, it cost $120, and is wired parallel, and is fantastic. Turned it into an even better value bass.
There are Kent Armstrong pick ups you can get on Reverb for about $52. II will be trying these next time I need to swap out a MM style humbucker.
These can be wired either / or series or parallel, and with a pre-amp that has a switch, you can have it as both.
Personally, I would just put in the pick up in Paralell, and leave it as that.
The stock pickup is nothing great, but it does just fine.
The benefits to replacing the pre amp would you can turn it from 2band to 3 band, and even add that switch if you wanted it. You can even add the Darkglass preamp, and get low and high minds, with a highly versatile sound, however, it won't sound much like a Ray anymore.
If those options appeal to you, I can point out a few, from cheap to expensive for you, but I am fine with the stock preamp.
I do highly suggest getting a new pick up in there however, unless you are cool playing with the high and lows dialed all the down most of the time.
Beautiful!!!

Its Ok to have one of each of those too. I give you permission.
If fact it is ok to have about 5 Sub Ray4's, cuz there are so many fun upgrade possibilities, and you can make 5 outstanding basses, that are different enough tp be worth it.
In case you don't know.
The Ray4 (SUB) has a Jazz neck on it, as does the Ray24ca, (also called the Ray 34CA before 2018), but the Ray34 has the Stingray neck, as you well put it when you said, it is in between the P and J, favoring towards the P.
**Also worth noting the Sub-Ray4 has a pick up wired in series, unlike a Signature Stingray stock pick up should be.
The Ray24 also has the pick up wired in series, but all the pick up wires are accessible so you can easily switch it with a quick soldering job. The Ray 4 Pickup is potted, no wire leads.
The Ray34 has better electronics then the other two, and the Pick up and Preamp, I believe are identical to the EBMM Stingray Classic (models before switch to Stingray Special in 2018), making it so very close to EBMM stingray, that for the price, unless you can't stand any of the color options, makes it an excellent buy, all things considered.
But
As I said in the beginning, the whole point to get a Ray4 (new or cheaper used) is to swap out the pick up, and if you want the Preamp. there are so many good options to choose from, you need at least 5 of them. I currently am 4 short of that myself, but…its good to have goals.
I enjoy them both, but I prefer the J neck. I got my EBMM Stingray because it was a SLO Special, which is an EBMM BFR Stingray with a J neck on it. When I really started to understand all the differences between all the Sterling (SBMM) Rays, and the EBMM Rays, and all the Necks, BFR's, Specials, etc…, I had decided to look for a SLO Special.
I did not have to look long or far, there was already one listed in my local Offer UP, that I had looked over several times already. It was the right price range, but it was White, so I had it saved, but kept passing over it until I found out about the SLO, and then looked at it again. At first, I wanted to find one with color, over the black and white ones I was finding. But when I decided the SLO Neck (I had just learned about) was more important to me than a body color, it was not a day or two until it was mine.
It's not that I hate White itself, but I find black and white basses to be boring. Fortunately, you can spice them up rather easily because either color, on on its own, goes with any other color scheme.
So after a pick guard upgrade and some Orange strings (to match my orange strap), its no longer dull and boring IMO.
SLO=San Luis Obispo
You could swap the position of the Jazz and Stingray, and say 1,2,3.
Or
You could put the P in the middle, the Jazz on the left, and the Stingray on the right, and its like a podium with First in center, 2nd to the left and 3rd to the right.
Thats the order in which Leo Fender created these beautiful instruments.
This is my beginner rig.
Jaguar Classic Vibe.
I decided on a P-J setup to give me some versatility and allow for experimentation with a wide variety of tones.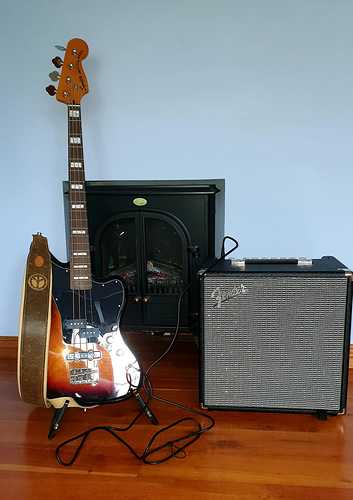 I really like the look of the Sire Marcus Miller M7 but I'm making myself wait until I make it to Badass status before allowing myself to indulge.
Talks so much.
That sounds like a great plan.
I'm still reeling from the $$ outlay to get set up.
When I recover, I'll look into the Aguilar.
So far I like the way it sounds - and when it doesn't sound so great it seems to be me.
Thanks again.
The 304…which is now fine after the work done. The pickups fit fine with the preamp I think. I like it's great ability to produce a lot of different sound. I thought it might have been just a thing with this one bass. Something I like with my basses is a high gloss neck. So I finished the neck accordingly. I wouldn't part with it now that I have made it what it is but wouldn't consider purchasing others. Another thing about it is the spacing between the pickups. I like to play between the pickups and the space between them is a lot smaller then on the Fender products…most of that because they are 24 fret basses and have the smaller body.
Thanks for your comments everyone and also for all the insights on Stingrays, @T_dub!
Beautiful collection. I tried for half of last year to find a MiM Player Precision in Sage Green, but seems like they are just about impossible to find since Fender stopped making them. Such a great color.