Love my Elite. It was pricey, but so worth it.
Nice axe! Maybe you should learn bass with your feet so you can mando with your hands at the same time.

Okay, I'm really liking this emerging theme of cats photobombing the bass photos… wish I had a kitty around so I could add my own.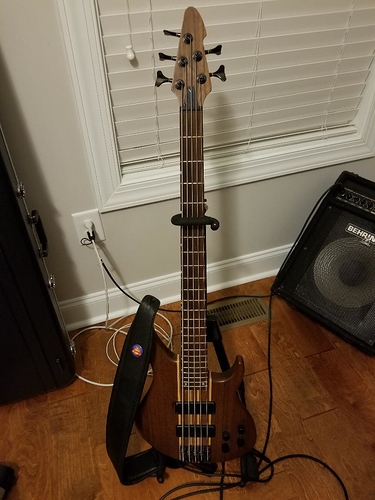 This Peavey Grind is my 3rd bass. The other 2 were really cheap and crappy, but a good way to start and not spend tons of money not knowing if I would like it. The only reason I bought this particular bass was because I loved the look. I started playing when my church needed a bass player and I didn't have anything else better to do, so I bought a dvd and started 3 weeks later. I played every week for 5 years. It was a terrifying experience, with not a lot of training, and no musical background. When we moved, I found myself longing the bass playing so I am trying to get back into it and learning what I should have learned to start with. I just didn't know back then. I have forgotten a lot since then, so I am glad to have found Josh and this awesome training. This bass is really heavy (many back aches) and even though I have been playing with 5 strings, It is overwhelming for some reason. I'm gonna get a 4 string bass at some point. I have really appreciated the bass and amp extras videos with this course. It will help when I make the next purchase.
Nice looking bass. I couldn't even imagine playing for the public after 3 weeks…yikes!!!
Lol. I think I'll save my feet for running.

Replace it? I know it may look dated but it's got some fantastic tones in there. Pickup configuration is actually quite useful. A friend of mine had one and he tricked it out with a D-tuner. Easy to play and kinda hard to get here in England!
Hi again. See my 2 trusty companions Homers 1 & 2 here. Homer 2 is in development and will hopefully incorporate some interesting tech over the coming months. Homer 1 just, well, is.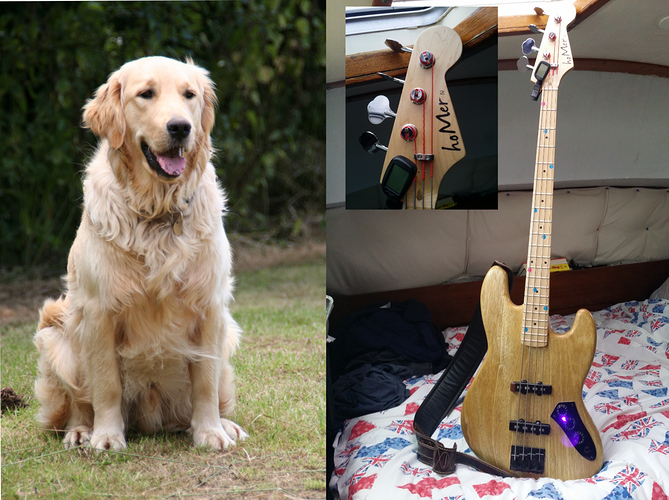 Apologies for the training wheel stickers. We all have to start somewhere.
Wow that's so cool! So you cut the neck/body wood and everything yourself? On the bass, not the dog, of course.
And yeah I think I see the resemblance of the headstock to another brand…

Keep us in the loop about new bass tech, very intriguing!
That was a cool video. He has his thumb planted on the E the whole time.
Never noticed - was just enthralled by the pitch shifting pedal he was using.
He does move to the pickup cover sometimes. But also since he's using an octave pedal, he's not using his E string as much as he normally might.
This beautiful gal doesn't have a name yet, but I got her about a month and a half ago, and I love her so.


(Please excuse the cheesy FB frame decoration, lol)
t-rex arms! so funny. I also have a short scale because I simply cannot reach anything on a regular scale bass.
My main bass is a Fender Jazz Bass, just love it. I also have a Hofner violin bass it's short scale and has that early Beatles sound.
I have a standard Jazz, and I'm about to pull the trigger on a fretless P. I can work them, but it's so much easier with a short scale. On the regulars scale, I don't have the reach, so I'm practicing sliding.
Pretty! I like those basses a lot.
Classics! I'd love to add a Hoftner-style bass to my repertoire, if only to amuse myself at home playing along with Paul.