I really like that color pattern
Sweet. I don't think I've seen that finish. That has the Bartolinis, doesn't it?
Unfortunately no, at least not the SR600E. Sweetwater took a couple days to get it shipped; I expect they had a lot of guitars going out. It will be here Tuesday, and my boss will let me take the day to noodle around on it.
Now there is a good boss, has his priorities in line.
Very nice @fosskers ,
i hope it brings you years of great playing,
Cheers Brian
Very nice looking bass, @fosskers . . .

Beautiful woodgrain and looks very classy!
Cheers
Joe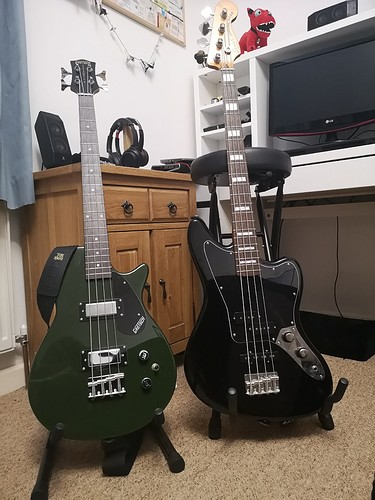 Here's my babies. The Squier Jag was my first, only 9 months old! The short-scale Gretsch was a more recent impulse buy while out with a friend looking for a guitar for them. I
accidentally
tried it, loved it, found there'd been a significant price drop so I threw my money at them and walked away a happy man
I hope one day in the future to be able to afford something as badass as a Dingwall… Now those are metal!
Those short scale Gretsches get a lot of love on talk bass.
I have not seen or heard a Gretsch I did not love, even their entry level models are cool and sound great. Those Junior Jets look awesome.
Some days…UPS lost the bass. Will take a week to sort out
Started with a Donner (heavy AF but OK), got this beauty a few weeks ago, Washburn Taurus T14 in mint condition, just love this Bass, can't hardly put it down.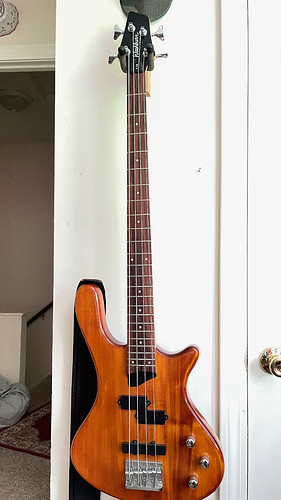 @fosskers sweet! If that sounds half as nice as it looks will be a sweet tone for sure !