Nice job Jerry @JerryP


Cheers Brian
You ole Hound Dog @JerryP … great job as always!
What? Would love to be involved if possible.
Thanks @John_E
Had not seen that but I've been awol for a few weeks.
Hi Guys
I've been out of the loop for a few weeks but getting back in slowly. Well done to everyone on their submissions, very inspiring stuff. I'm learning Hound Dog at the moment, so will be recording it soon. Never really liked the song but having played it through a few times its really good fun

Cheers
Matthew
Alright, back to the challenge…. it's been busy, but this one is fun to play, some issues with timing… I've noticed that staying steady the whole song was the hardest thing here…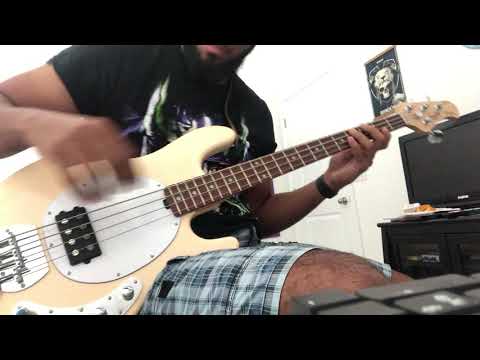 Nice job at the beginning @Reo. I think you may have unsynced yourself somewhere in the middle though, got a little ahead of the track, maybe you couldn't hear the background track well?
For me I need it in headphones, even through ambient speakers loud isn't good enough to keep me on track sometimes.
Some seriously nice low thumpin bass though!
Thanks,


yes, I have trouble with that, I don't always find a reference for the timing within the song, so once I slipped it's hard to get on it again, and if I like the song I'm more likely to loose it
I do that too, I have to still balance playing it right with totally getting into it and going off into a forest somewhere.
Jumping into this one next, noodled a bit at it this morning.
That's some nice bass tone. I can't tell whether or not you're in the groove as I can barely hear the backing track, but it sounds like like you did okay. Nice job.
Hey @Reo ,
Good job on the challenge,
Nice finger work on both hands, just noticed some tonal differences during the song, and as mentioned some syncing stuff, but your here to learn and progress your playing and your doing a fine job,
Keep up the good work,
Cheers Brian
Doing this was a good wake-up call that my pinky isn't getting anywhere near far enough on its frets. Otherwise two minor mistakes, but it came out okay!
Do you mean sometimes your pinky is fretting too far from the fret? I did notice sometimes you are in-between frets with the pinky. But recognizing that and working on it is all that is needed to correct it in due time. I think most of us are still trying to get right up next to the frets. Especially hard when not looking at the fretboard, but obviously we don't want to stare at the fretboard all the time.
I think your pinky is longer than my middle finger, but I have to do micro-shifts all the time to get my hand to where it needs to be for the fretting. You might want to do try that and slide your hand down a bit instead of rotating on the thumb. However, I think as your finger flexibility improves over time, you will not need to micro-shift for this particular song.
Anyway, I thought you did a great job. I'm glad you don't stress over 100% perfection. I don't think I've ever had that and it would probably take me 100 takes to do that, which is not what we want people doing for this challenge. This isn't going to the record labels.

I'm enjoying your playing and enthusiasm. Looking forward to more!
Precisely, I see it landing right in the middle.