The right fretting technique is crucial for any bassist, whether you want to shred solos or just lay down a gig's worth of grooves.
0:00 - Fretting Technique Showdown
0:58 - Meet Your Challengers
2:04 - Round 1: Doing It To Death by James Brown
3:59 - Doing It To Death Play-along
4:53 - Round 2: Time Bomb by Rancid
6:02 - Time Bomb Play-along
6:43 - Round 3: Plush by Stone Temple Pilots
8:31 - Plush Play-along
9:15 - Final Judging + Fretting Myth
10:05 - Pros and Cons of Both Techniques
11:07 - How to Decide Which Technique
12:07 - 2 Principles of Good Fingerings
If you're doing the Beginner to Badass course, this lesson would fit best after Module 6, when you've got a good handle on basic fretting. Some of the play-alongs might be a little tricky, but the concepts should all make sense.
Spoiler Alert: Simandl versus One Finger Per Fret Summary
don't read this if you don't want to kill the suspense!
Here's a quick summary breakdown of how the Simandl and One Finger Per Fret techniques compared: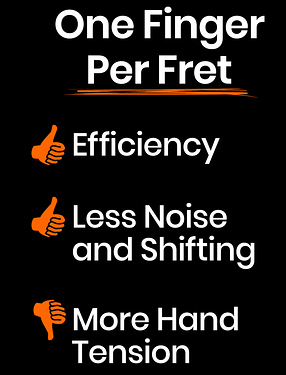 Challenge Fretting Exercise
I had to work my little butt off to play those bass lines at 12:45 with only one finger, especially Ytse Jam.
If you want a fretting challenge, try playing a bass line you know with only one fretting finger today. It might feel silly but your shifting and target practice skills will improve!