You'd have to insure your windows against blow outs!
Seriously…
I've got 100 amps and can rattle the glassware in the kitchen cabinet with it.
Audio engineers dream of headroom in the amps

Nothing suffers by turning down the master gain.
It doesn't seem like that extra power is getting used, but it could be. If you like a nice sharp attack on the pluck, then for a teeny tiny fraction of a second the amplifier can ever so briefly dip into that power headroom. (The speaker can take more than its average rating for a short time without overheating, provided that it doesn't get so much voltage that it tries to move out farther than it goes.)
A guitar can easily have a 20 dB difference between the attack on the note and the sustain. Let's say you are using 10 Watts for the sustain (which is probably way more power than your amp is putting out at home), it would theoretically take 100x that power, 1000 Watts, to accurately reproduce the pluck at +20dB higher. When this is impossible, the transient just gets compressed in the system down to a level that can be handled.
If you like punch and definition, power headroom is a good thing, even if you don't need the power to be loud.
Power disappears quickly in other ways too. If the 410 cabinet is 8 Ohms instead of 4 Ohms, the amp is now only 500W instead of 1000W. If the amp module was rated for 500W for a 230V power system, it's possibly capable of only 380W in the US (That spec rarely gets published).
More power!
@DaveT are you saying that one should specify a 410 cab that's 4 Ohms to go with this head?
Most amplifiers will put out their full power at 4 Ohms and half that much at 8 Ohms. If you are only using one cabinet, you will have the most power available with a 4 Ohm cabinet. If you are using more than one cabinet together on the same amp, you can connect two 8 Ohm cabinets together in parallel and they will act like one big 4 Ohm cabinet and pull all the power the amp has to offer. There can be exceptions with some amplifiers.
Thanks for bringing it up @DaveT. As I read from the top down, I kept waiting for somebody to bring up Impedance. It is hard to shop for an amp head, at least IME and IMO if you don't know the impedance of the cab.
You May want to find this out before getting to involved with any one amp head.
That said, I like the TC Electronics BH550.
Also, MarkBass has some great amp heads in that price range, if they are powerful enuf for the cab? You will need the impedance for reference.
We actually have a whole topic about this.
It's in reference to the cab he is getting, and finding out what the impedance of said cabinet is before finalizing on an amp head.
Ahhh yes, the MiniMega is 1000 watts, I'm looking at the MiniMax v2 @ 600 watts. I just couldn't find ANY good videos of the NEW MiniMax. But still it's likely more power than I'll ever use at home anyways. Well… not without police intervention
Thank you all for all the GREAT feedback! Keep it up!!!
I totally understand I need to know the wattage and Ohms of the cab once I have it in hand before I pick an amp. I've added TC electronics and MarkBass to my shopping list as well.
Here is a video of the OLD V1 MiniMax 500 watt amp. The V2 is 600 watts and hopefully they have fixed the loud fan on it because that is the one big complaint I've seen about the V1.

Thanx
Chris
So… after further research on all of these amps I have to admit I'm pretty SOLD on the the TC Electronics BH series, they get a LOT of impressive reviews and there are a TON of videos featuring them and all the features. I'm honestly thinking of getting the BH800 as I doubt I would EVER out grow it.
I didn't see them on Sweetwater or Guitar Centers web pages as options. I emailed Sweetwater and they said they use to carry them but they were discontinued. So I emailed TC Electronic (Music Tribe???) because they look like a current product on their web site. They wrote back basically saying Amazon has them in-stock and just to order one from there. But they did confirm they ARE still in production, just back ordered at this time.
So I'll wait and see what happens on Friday with the 410. My guess is it will be 400 watts @ 8 Ohm which will be just fine for the 4 Ohm BH800. But who knows… I don't have it in hand yet.
I did want to take Sweetwater up on the 36 months 0% financing deal though… gggrrr…
Chris
Glad you have a choice made now. They do seem good kit.
Oh the best laid plans… well… still no bass cab. However I SHOULD have it in 2 weeks. My friend hasn't dug it out of his garage yet, no biggie for me really. However… I learned it is NOT a 4x10, it's an 800 Watt 4x12 Fender bass cab running at 8 Ohms.

He couldn't remember the model.
After a LOT of soul searching I just can't bring myself to buy an amp head and only have that to power the 412. I really need a little portability, and a 412 isn't going to be fun to move in and out of my basement by myself.
So… I've been eyeballing the Peavey MAX 300 combo Amp on Sweetwater for a while. I think the combo makes more sense for me and I can move it without pulling something. Plus it's a 210 running @ 300 Watts so PLENTY of power! AND… it has a speakon connector in back to connect a cab to it.
I wasn't sure from the Peavey manual what exactly happens watts wise when you connect a cab to it so I asked my Sales Engineer, Josh Strid, @ Sweetwater. He couldn't answer the question from reading the manual either. He wasn't sure if the combo got 150 and the cab would get 150. Or if the combo would deflate the onboard 210's and send all 300 to the cab. So he dug in and found the answers and got back to me today.
The combo runs at 300, AND it sends another 300 to the cab. So I think I'm going to wait until I have the cab in hand. Then buy the Peavey Max 300 and connect to it for an output of 600 watts total. Which is complete and total overkill, but if I got the TC Electronic BH800 it would only be sending 400 watts to the cab because it's 4 ohms and the cab is 8 ohms. The back of the Peavey says 300 Watts RMS @ 8 Ohms. So in the end I'll have more overall power (cause everyone needs 600 watts right? LOL) and a portable 300 watt combo amp to boot.
Go big or go home I guess?
Chris
@csmundell I thing your Sweetwater guy had it wrong about the stand alone watts versus watts with extension cab. I had looked into these before getting my amp and I remember the maximum watts (300) was when used with the extension cab.
I'll do some research and see if I can dig up my source.
I can't find it right now but if you look on the Peavey page or in the manual it says, "Up to 300 watts of power."
I emailed Peavey because it's not clear in their manual for the MAX 300. If I don't hear back by next week I'll call them, which I may just do anyway. I was VERY surprised when the Sweetwater guy came back with the answer he did too.
The back of the amp says about as much as the manual… (Page 5 #17) https://peavey.com/ItemFiles/Manual/119099_37324.pdf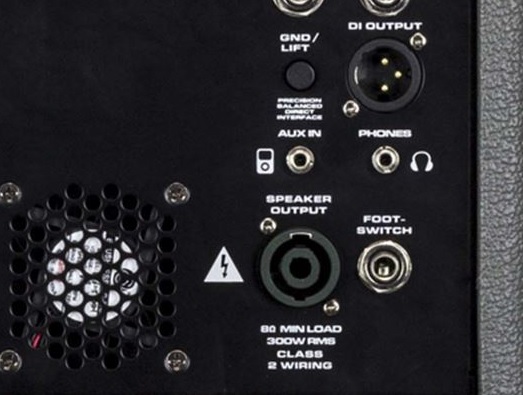 Chris
i love my dg vintage microtubes pedal, because (although they don't show it much on the youtube reviews) it can actually do warm, mellowish umm… vintage sounds. not your screaming metal pedal like most dg drives, although you can make it do that if you like it. howevs, i had the vintage ultra preamp for a short time and, although similar, there is definitely differences in the vintages on the preamps/amps and the vintage microtubes. even the controls are different.
It's such a cool pedal. I would probably want the one you have too, I really like my little Microtubes X and while I wouldn't turn down an X7 of course, it's definitely different.