Action shot: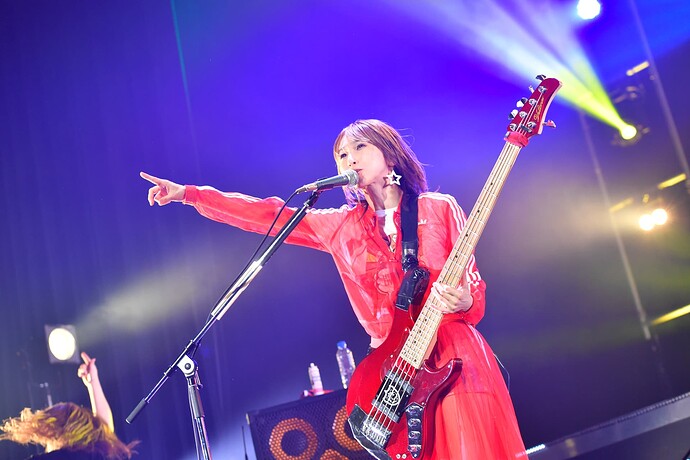 Love the duct tape over her straplocks. She's famous for spinning and flinging her bass around

Doll$boxx is great; basically Fuki from Unlucky Morpheus plus Gacharic Spin.
Gacharic Spin also gets shortened to GachaPin and GachaPon, fwiw

Her history is interesting. She did a stint in her teens as a gravure idol, which weebfans will occasionally discover and latch on to, until someone delivers the news that she was like 15.
The funniest part of her history is that her original band was denied a label deal because "no one wants to see girls slap bass." Oh my dudes, you so massively deserved losing that cashpile.
They (and their associated collaborations) are so good.
For the record, I avoid gravure like the plague.
I had heard that Koga was ready to quit music after Pink Panda and someone convinced her to start a band with her best friend Hana.
That's good, or at least it's good for the genres of the word that have got the connotation of basically "sexualized bikini model". Really sketchy, says a lot about idol otaku in general.
Yeah that was after the idiotic label turndown. Morons.
Hana might be the most talented musician in the band, she's awesome.




(scratches down line, considers starting "Best BassBuzz Quotes" thread)
What exactly is gravure? It makes me think to the art of engraving/etching woodplates or metal or linoleum to make a prototype which can be printed in one or more colours potentially using handcrafted papers and metal torques.
I struggle to imagine a sexualised version of it… (Well it depends on what exactly is being etched!)
That's actually the root of the word. It's a borrowed word the west, short for photogravure. "Gravure model/idol" originally meant any model in print (magazines, etc), but eventually went to "attractive people making photobooks and DVDs", and then eventually has taken on a slang for basically bikini/underwear modelling. And of course, that's been taken to extremes now, as these things go.
Think of young adolescent girls doing sexy bikini shots and you're close to the mark. Often used to promote young singers.
Some of them are super explicit.
Rei's parents forced her into gravure at 12 or 13, she's left that behind. She's the singer with sister Aya on bass
Yeah, it's super sketchy and icky. Says a lot about the mid-30s idol otaku that buy them up.
i don't know much about them but nita strauss (who's been all over the news lately) used to be in that band.
Interesting interview. The book might be a good read as well!
She's awesome. Quite a track record too, musically.
I'll add Nicole Row (currently Panic! at the Disco touring bassist) very inspiring attire ahem bass playing.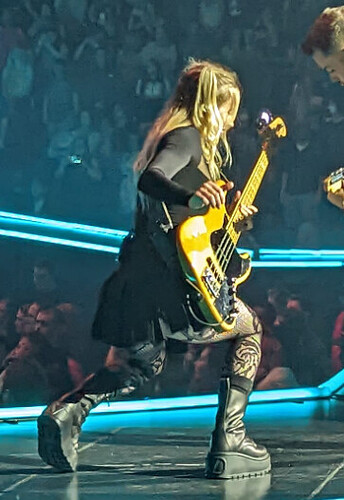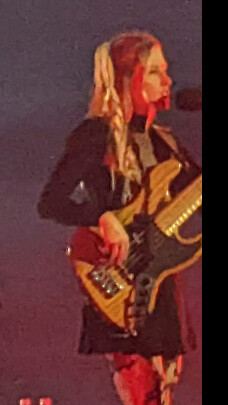 Our Lips are Sealed is a great catchy bass line