You might not even KNOW that your bass tone sucks right now - but you'll have it fixed by the end of this lesson.
0:21 - What is Tone?
1:17 - Fix #0: Tuning
2:14 - Fix #1: Pluck Properly
3:27 - Fix #2: Cut Your Nails
4:18 - Fix #3: Learn String Basics
7:50 - Fix #4: Learn Your Pickups
9:14 - Fix #5: Learn Your Knobs
11:36 - Fix #6: Amp EQ
If you're doing the Beginner to Badass course, this lesson will be great for you no matter what Module you're on. (just don't get hung up on getting the "perfect" tone, 80/20 it and move on)
When I was a beginner, I didn't really even know what bass tone was. I was so focused on learning technique, theory, and playing songs, that I would have had no idea if my tone was any good or not.
I wish someone had taught me all the stuff in this video in my first year of playing!
Tune Your Freaking Bass
If you need some help getting in tune, here's a basic walkthrough with a clip-on tuner:

Flatwound vs. Roundwound Bass Strings
Here are those string photos again, I took these myself because I couldn't find a single closeup photo of what these actually look like!
Flatwound - smoother on the fingers, generally darker, warmer, more vintage-y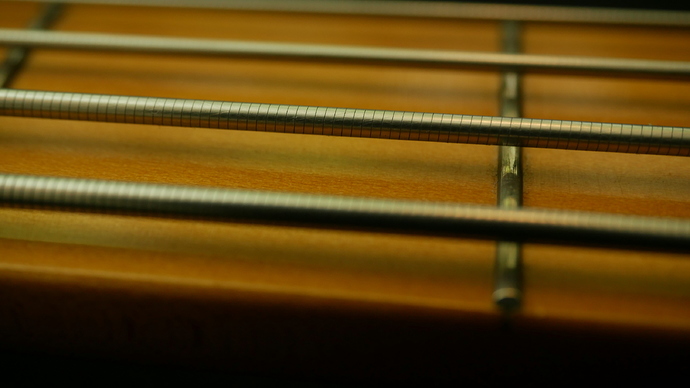 Roundwound - rougher on the fingers, generally brighter, more zingy and modern

Which bass tone fix helped you the most? What other tone tips have you found handy?