When an alternate tuning is indicated on a score, is it "standard" to notate the score as if standard tuning was used?
In other words, in this transcription: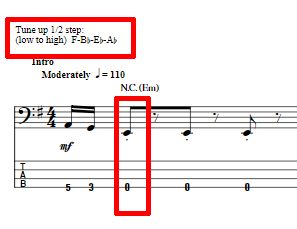 The indicated tuning is F/Bb/Eb/Ab (up a half step), but the 3rd note (shown in the tab as an open "E (tuned to F) string) is shown as an E on the standard notation. With that tuning, you can't even play an E, but is the idea that the "E" indicates "play an open E string here" even though you're playing an F?
If so, I guess I "get it" - saves the reader from doing the mental math of seeing the F, and having to remember that they're tuned up a half-step, so it's not 1st fret, it's open and they can instinctually hit the open string. I'm just so used to seeing standard notation actually represent the notes that you're supposed to play, that it seems a bit unnatural for me to see it as just another version of tab: "a circle 1 ledger line below the staff means pluck the open 4th string". Like, you're playing an F there - the notation should show an F.
This example doesn't come from anything BassBuzz related - it comes from SheetMusicDirect. It just threw me when I first noticed that "all the notation is wrong for songs with alternate tunings". I had thought that the "alternate tuning" note was for the tab part of the score, and never noticed that the notation "pretended" that the bass was still standard tuned.
So is that the deal? The notation isn't "wrong" - that's just how alternate tunings are handled in scores?
Thanks…