This is a "software gear" question and probably concerns free-of-charge products!

I'm in a situation where I want to be able to stream both voice and bass in a videocall app like Zoom or Discord. Unfortunately, neither one of those apps allow for using different audio inputs the way that, e.g, OBS does. So I need a way to create a virtual input that fuses the two physical inputs (my USB Mic and my USB Audio Interface).
I downloaded Voicemeeter and it works pretty well. Unfortunately, it doesn't offer a negative offset to sync up the lag between the physical inputs! Consequently, when I pluck the string, I hear the note after maybe half a second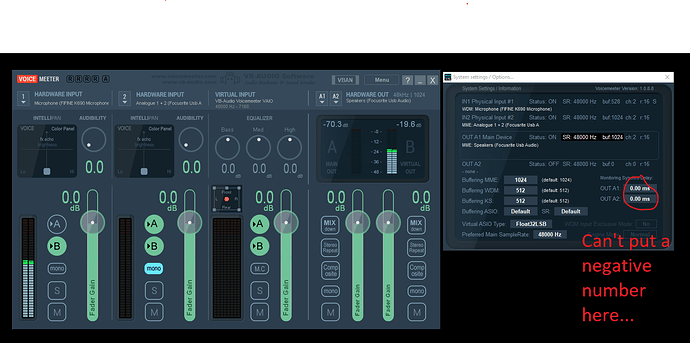 This is a known missing feature according to their forums . So my question is: anybody here use an audio mixer that actually does allow for a negative offset?

I need to be able to run it on a Windows machine.