Hi Peter,
Can you let me into the meeting
Cheers Brian
Hi @joeike
Are you in the meeting?
Cheers Brian
Hi @JerryP
Are you in the meeting?
Cheers Brian
Hi Peter,
I'm in the waiting area,
Waiting for the host to let me in.?
Cheers Brian
Yes, that was nice!
There were four of us. Surprisingly enough, I was the only European! The other contestants were @joeike, @PamPurrs and (after I had figured out that I had to actively let people in) @b.s.excavations, who had been banging on the door for about an hour…
We talked about our musical listening preferences as well as about the genres we play ourselves. There was the appropriate amount of zoning out when I started to talk about jazz, of course.


We also had some fun when Joe told us about how sometimes, he would hear on Sunday morning in which key the music he was playing that day would be, and the importance of remembering and practicing song patterns rather than song notes.
Other than that, it was just general chit-chat. Brian filled us in about how the current lockdown restrictioning tightening in his state (Victoria) was affecting their lives, and Peter explained why he was looking forward to the day on which someone would say "you gotta work tomorrow".
Zoom was kind enough to remove the 40 minute limit – and when I closed the session at midnight my time, it made another generous offer: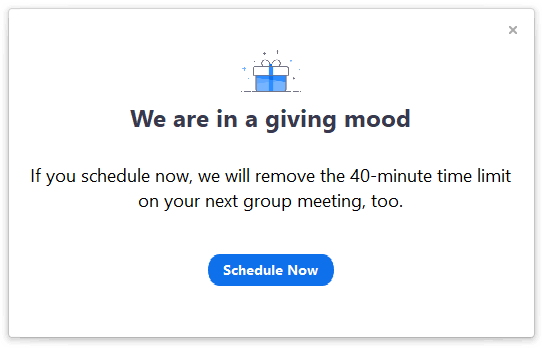 So I'm going to schedule a next meeting now.
@peterhuppertz, thank you for hosting the meeting. It was fun getting to meet you all.
Thanks for hosting the meeting Peter,
It was nice to put faces to names, and share our musical aspirations etc.
Looking forward to this concept expanding and getting more bassbuzzers involved.
Cheers Brian
Brian,
I left a message earlier that my son was coming for a visit at the time of the meeting so I wouldn't be able to attend. Sounds. like you had a great time.
Yes, I hope you had a great visit with your son @JerryP. Hope to see you next time.
@b.s.excavations
Sorry I didn't see this until after the meeting Brian. I'm glad you finally got in.

@T_dub I'm thinking next Wednesday at 1900 UTC (1200 our time). Think you could make it if I set it up?
Yes, I am pretty sure all the appointments next week are on Thursday, so that sounds great.
I look forward to seeing you @T_dub
Same