But it will love you long time
I actually saw an old clip of KISS today on some old youtube show, and Paul Stanley played that guitar.
If it is a signature from KISS, it is not surprising if it is intentionally phallic shaped.
But I am not sure if it is his signature or comes from elsewhere.
Wow. That's gotta be one of the most rare basses I have seen an ad for yet.
They had that bass at Eco-Town, cross between Pawn shop and Department store, but have a pretty big music section.
Them must be Japanese owned / Japanese importers, cuz most all the "New, Old Stock" are all Japanese brands of ESP, like Edwards and GrassRoots. The pink one I saw was an Edwards however, I remember cuz it was the first Edwards I ever saw. I thought, this is a really well built P bass, but man, what a ugly bass. I have pretty loud taste, and roars even a bit loud for me.
I would still probably rock it, Er I mean Punk Rock it!!!
EDIT: pretty sure it was a P bass, maybe a Jazz, with J or P-J pups,. But It was for sure that finish, but not the same configuration.
Pretty sure it was a double-buck because that's what the dude plays. Here's the Edwards versions:
I came across one of these VOX Sidewinders today at a local shop. Had never heard of it before. It was in really bad shape with lots of issues and some electronics issues but even so man o man the tone was out of site. It has onboard distortion that has a sound all its own. I see really good examples selling for $3000-$4000, so nothing I am buying anytime soon, but it might just be my dream hollow body for one day. I was able to also try a vintage Guild and cherry vintage Gibson EB2 as well. The VOX was by far my favorite, even in its terrible condition. And they really look cool.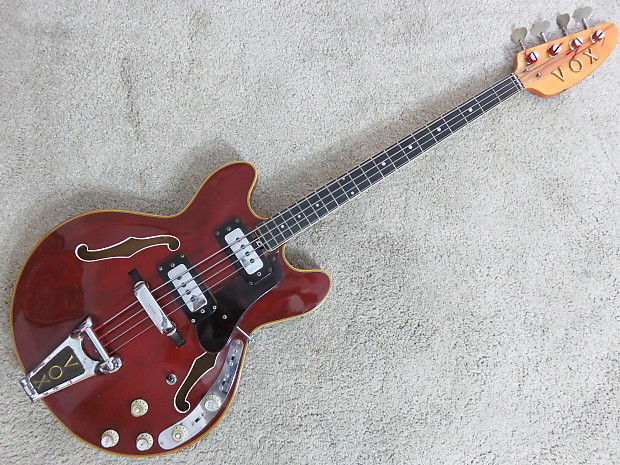 Oh to add to the kookiness of this bass, it has a built in "G tuner", which plays a G pitched tone to tune your strings to, the distortion I mentioned, treble/bass boost control, and 3 way pickup selector. The nut is aluminum and has a zero fret as well. The back of the body has a snap-on pad that protects the body from 'belt buckles' and other wear. It also has just about the thinnest neck on a bass ever made, was geared towards guitarists. Never heard of it until today but now fascinated.
that has to be the skinniest bass neck in the universe.
i have always really liked this bass.
Yeah it oozes cool. That thing and a pair of Ray-Bans would go a long way.
Oh I didn't buy it.
The electronics had some issues, but worked. I would guess some contact cleaner and everything would be fine. The bass had a lot of other issues thought so I did not consider it. From what I have read, there are some that have 'sealed' electronics and some that are open and can be repaired. If sealed, and they die, you are done.
I think I have mentioned Ikebe Gakki here orders custom Warwicks a lot and sells them. Here's a few.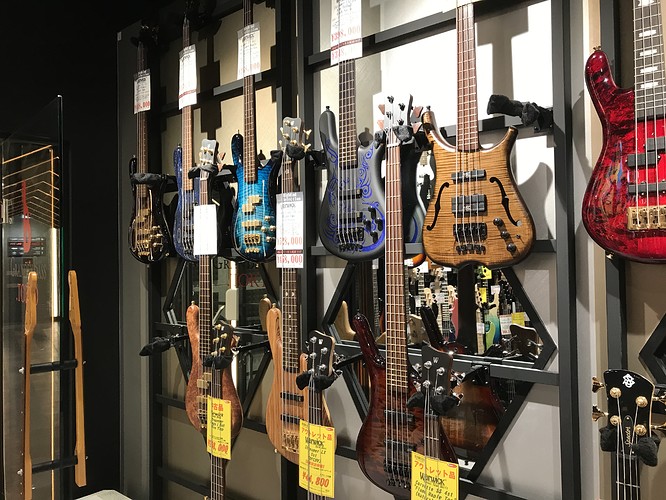 Their back room looks like it is full of goodies too.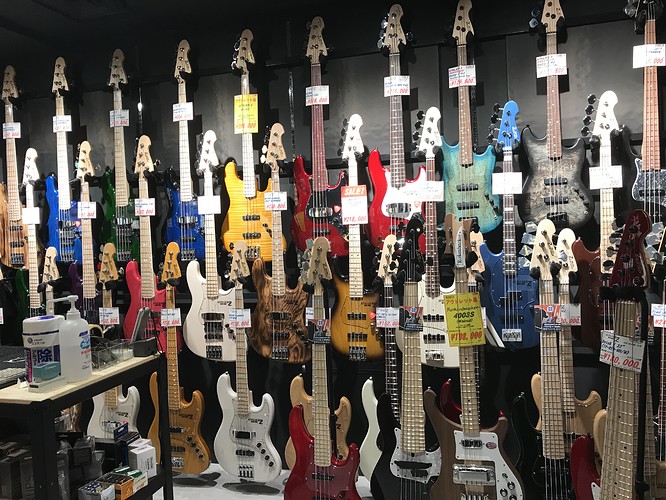 Your teasing us Howard @howard,
Cheers Brian
Ikebe opened a new store in Shibuya this week so I went and took those pics. My wallet also did not leave unscathed itself. More on that in another thread

Love me a Mocking bird. B.C. rich makes some sick instruments, high quality, but mostly made to order now.