Oh how beautiful these bass guitars are!!!
TUNE TWB-4.

I see these listed all the time but don't know much about the company, other than they are well regarded. Hardware is top notch (hipshot, Gotoh, etc).
The upper horn is a bit Yammy-ish, and so's the headstock, to my eyes at least.
It's a beautiful instrument.
Yeah it has a very Yamaha and ESP vibe to it. A bit Ibanez on the neck join too.
It ain't easy being green
Who is late for every band practice?
This guy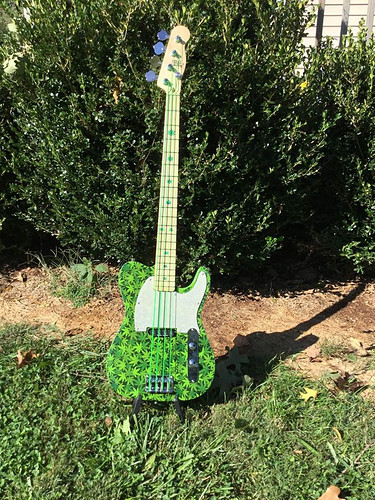 Yeah, I dig this bass, it is very cool, and unique in a similar fashion. the tone and. volume knob position for instance, and the Strat input, with a Flying V headstock and almost a Steve Van handle, but no finger slots.
Plus the 3+1 tuners, and MM pick up, SIGN ME UP.
I like the 2 color vibe, and body of the short scale, but prefer it if it were long scale.
SOMEBODY will lose their mind in 3…2…1…
Love it, but for the price, I would've to go for the other orange translucent one with black hardware and the tiger burned male fretboard for that price.
Hey Mac, how is that Warwick treating you? I know you have a stingray and love to play it. Will you still play it as much which this Warwick sitting next to it?, or do you think your Ray4 will fall off into oblivion?
I don't ever thing my Ray4, at least my main axe, would ever fall off to oblivion, but this Warwick is the first not that has made me think, Hmmmm, I kind of want one.
I will be playing my Ray4 tonight @T_dub . Still love it and can't see myself not using it especially since the pickup upgrade.
The Warwicks are great. The RB is great fun and easy to play although I have to be a lot more aware of muting the unplayed strings for some reason.
The German made is as heavy as an anchor but I love playing it. I'm even getting used to no fret markers past the twelfth lol


If I ever come into serious money I would seriously consider a used team built Warwick.
They are really great instruments. And the company is super cool to their customers too. Florence Wilfer handled my customer query (and didn't Hans-Peter handle yours?) - you really can't top that. That's like calling Fender and having Leo pick up the phone (when he was alive anyway - if it happened now, yeah that would top it

).