By Bass Project.
Hi, I'm a new bass player. In Australia. I'm really excited to be here, part of this community.
I'm learning to play bass, as a project.
BACKGROUND
Towards the end of this year, (November-December), I'll be releasing an album of uptempo fully electronic kroutrock-dance tracks on a little record label in my home town.
I created that music on hardware drum machines, synths, sequencers… the music is finished. It was fun.
In the past, I have performed this kind of music a lot… but now I want a new challenge.
THE PROJECT
So at the launch night party for my new record… I'll be performing this album, live, AS A BAND, in front of about 100-200 people at a cool club in the city. That's my vision.
I'll convert the electronic music in a rock band type thing… Two friends of my play synth and guitar, me playing bass. I'll find a drummer closer to the date.
PROGRESS
Yesterday, I bought a bass, a bass amp. I also finished the beginner free BassBuzz lessons.
I can play guitar, synths and produce music, so I've got some significant musical experience to build on. I'm starting the (paid) BassBuzz lessons today.
And we're having band rehearsal once fortnightly.
I'll be updating this thread regularly with progress… feel free to follow along, ask any questions or whatever!
Cheers!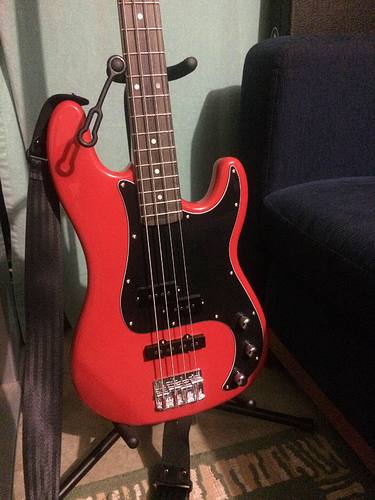 (new bass)