Cool. I learned stuff.

It gets very complicated very quickly . . .

Cheers
Joe
it does but he breaks it down at the end of each point.
Most of it seemed to boil down to this…
Use a good effects loop.
If your using your amp to add any overdrive, put your reverb and loop pedals in the effects loop so they come after any overdrive, distortion, fuzz effects.
I think it's mostly geared toward a much more professional crowd. With #1, most of us don't have any real choice about this. We just have what we have. #2 Was my big take away from it.
I kinda knew #2

But, I am a bit confused about #1… aren't you normally stuck with whatever your amp offers you?? (Or, maybe I misunderstood that part!?)
Aren't most amps giving you an unbalanced instrument level in and out for the effects loop??
I'm gonna watch this when I get home. Interesting topic.
Your stuck with it unless you use one of the products he recommended. Like the Kleinulator which plugs into the send and return of your amp. The signal path then looks like this…
EFX Send => Kleinulator In => Kleinulator Send =>
Your Effects =>
Kleinulator Return => Kleinulator Out => EFX Return
I did a picture…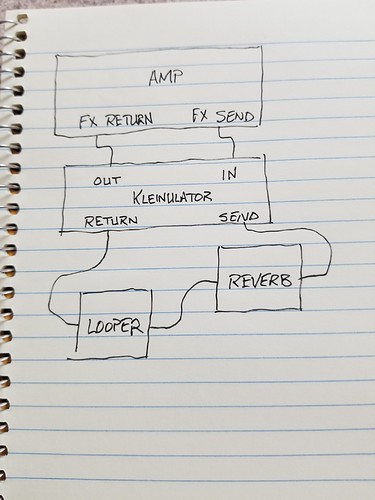 I don't know. I've looked at a lot of older gear and it has been all over the place with what they have. Most of the newer gear I've looked at comes with a series effects loop running at instrument level. But I haven't been looking at real high end gear like he was talking about either.
Very nice, @eric.kiser . . .

Before I kick the bucket, I might actually start to understand some of this stuff

Cheers
Joe
Ah, yes, OK… I might have skimmed over the part with the Kleinulator

Thanks for the drawing
I think both the Rumble 40 Studio and the B-Amp have unbalanced instrument level at the effects loop send and return. I wonder how much one really needs something like the Kleinulator…
I'm thinking you would have to be chasing tone really hard for this to ever become an issue.
My sons playing sounds pretty great and he has all his effects, including loop and reverb, before the amp, where he gets all of his overdrive. His older Vox 15 doesn't even have an effects loop.
Haha, yeah, I really like a clean sound, but I am already hearing all my string scraping and insufficient muting etc enough… no need to get those flaws even cleaner

2 and a half minutes in and I'm already reaching for the aspirin bottle…
Yeah, the guy knows stuff… and he lets you know that he knows…
Oh, Pam . . .
Thanks, I needed that!

I read a lot and watched a lot of videos where bass guys say the FX loop just isn't worth it for bass like it is on guitar (if done properly), and that like this guy says, most pedals are designed for the instrument level.
Everything seems to sound fine the way I have it.
For these reasons I am going to continue to ignore the FX loop.
I'm going to continue to ignore bass amps

But if I ever do get one again I don't care about the effects loop because the only thing I would put in it is reverb - I want all my other effects before the amp preamp. Unlike guitar amps, an overdriving bass amp is not critical to put before modulation for me like other distortion would be. So basically for me reverb would be it, and even reverb is probably fine pre-preamp 90% of the time.
Effects loop is easily the least important amp feature I would consider. I wouldn't care either way. And I use a lot of effects.
"I want him to know what I know. I want him to know I want him to know. "
-Kill Bill
The effects loop is nice if you buy something like the Microtubes 500 where it has the really nice VMT distortion on the input. In this case, the loop is the only way to get something after distortion. I'll buy wire with different size stands to keep all the frequencies traveling at the same speed before Kleininator gets my money. Sounds like the weapon of an evil villain.
Yeah good point about onboard effects on the amp.