Can anyone shed any light on what exactly a Fender 1071 precision bass is exactly?
Where did you see the reference to the 1071 bit of the description @mac?
It's in a EBay ad for some pickups and bridge/ pickup covers @Mark_UK
I can't find anything that makes sense of it at this point. Can you share a link to it? Maybe there will be an extra clue I can find in the ad.
I've looked also, can't find any reference to 1071 in relation to the P Bass. Sure it's not a typo that should read 1971 or something?
Here you go fellas

This is just for the pickups. They have a separate ad for the covers with the same 1071 mentioned! I've googled it and found nothing except this ?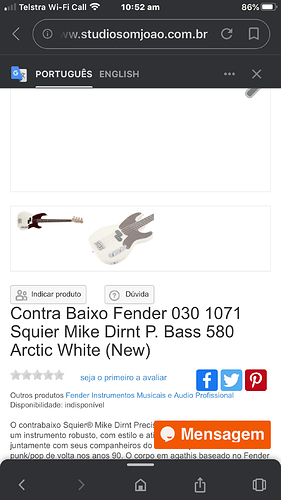 looks like a part number for the pickups to me.
I've tried googling that too @howard but nothing applicable comes up !
Think I'll just give them a wide berth and concentrate on new stuff.
Thanks all for your help

That 1071 is a Fender internal product code.
I haven't been able to identify the model of the bass it refers to, because the ID is incomplete.
For example, FEE1071 is what Fender calls the vintage Stratocaster guitar models, FEE0982 refers to their vintage Jazzmaster guitar series, and so on.
In any case, I'd think twice (or four times) about buying used pickups on Ebay …
Thank you @Gaius . I certainly won't be buying them but I was curious about them. I think I was hoping there was some mysterious Fender model I would HAVE to have

Hey @mac if you have money and an urge to buy exotically numbered kit, I could always buy some second hand cheap gear, stick some weird product numbers on it and charge you a bundle for it plus delivery? Would that help the urges?
I know I know, no need to thank me.
It's what friends would do.
.
.
.







Gee thanks

I've opted for a set of Fender Pure Vintage 63 pickups ( same vintage as me lol ) and an Obisidian wiring upgrade for the MIM in the end.
The more I've read ( and I believe @terb has already covered this in another thread) the more I'm certain I'll stick with the standard bridge and the only thing I would consider would be swapping the tuners out if they should strip.
I already have a pearl pick guard and a custom no mod thumb rest on order.
What is this Australian slang you speak?


What does that really mean?




It's a nautical term originally meaning putting plenty of distance between you and an object you're avoiding @T_dub
If you get caught up with that you'd freak if you heard two Aussie's talking together.
I don't know about Mac but I use a lot of Aussie slang, including rhyming slang.
Now that would show em a think or two wouldn't Mac.


Hell yeah . One of my biggest problems is putting a sentence together without swearing. I have to really concentrate

Well I have that problem and I don't even speak Australian