So, I picked up my SR500EPB used from a local seller on Reverb. He explained that there were some scratches and the like on the bass, but nothing too bad. And that's accurate, but I'm curious if there some way to fix them without sanding down to raw wood and re-finishing, which I don't want to do because one of the reasons I got that specific SR500E was because of the finish. So here goes:
These look like pick-marks or something, best as I can tell. The prior owner must have had a really heavy pick and been down-picking with anger. Anyway, I had similar marks on my Carvin, and I used MacGuire ScratchX to effectively get rid of them, but I don't think I can use ScratchX here as I think the SR500E qualifies for "unfinished". Also, those might be too deep for ScratchX. So any thoughts on this?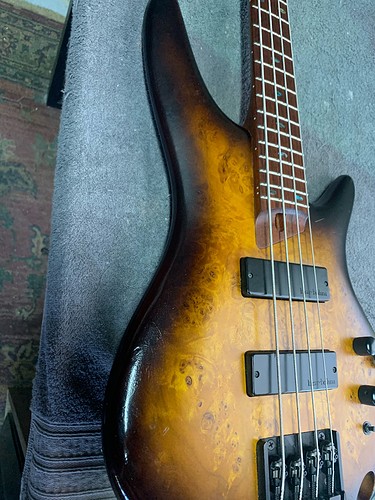 So here you can see where the normally matte finish on the bass has been rubbed smooth, ostensibly from an arm or shirt or something. It should look as it appears up on the horn by the strap button. Does anyone know of any way I could… unshine it, to make it more matte in finish like the horn?
Thanks in advance!