Yeah that looks like it. I got mine on Amazon.
You can always adopt a courdory shirt look which will help keep the strap from slipping, and give you some percussive background if it doesn't.

I know you don't want to hear about straps, but maybe you could try a strap with a shorter shoulder-to-button length? I too prefer a more upright angle, and along with the total strap length, this is the measurement that I always look at. My current strap is the Gruv Gear SoloStrap Neo 4, it's around 15 cm from my shoulder to the button. I also have the Neotech Mega on my wish list, that's supposed to be pretty short as well. You can compare to your current strap and see if it might make a difference.
I have wanted one of these for quite a while. How do you like it?
Setup was a pain in the arse (see my rant here), but other than that I really like it, and it's my main strap. Good build quality, very comfortable, and as I mentioned above, I really like the short shoulder-to-button length. It doesn't have a useless "dead zone" at the end like other straps do. It's just strap from end to end, and I can put any part of it on my shoulder.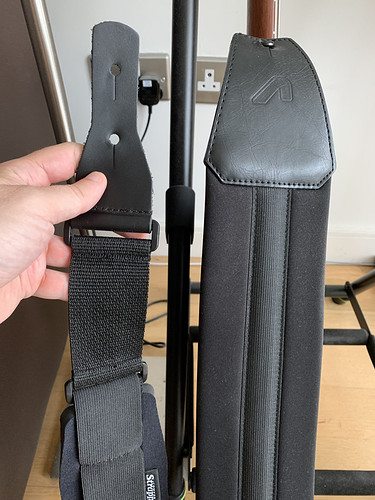 Cool! Just grabbed a used one for about $30US.
Wow, what a great strap. I should have just gone straight to this. Very impressed.
I do see what you mean about the adjustment being kind of a PITA, but once it is dialed in it shouldn't change.
Gruvgear also do a David Ellefson sig strap that looks really adjustable.
I'm glad to hear you like it also @howard. I'll check to see if it's available on Amazon and maybe give one a try.
Just a follow-up to this. I found I solution (I think). I took a basic nylon snap buckle. shortened it and then looped it through my belt buckle in the front and the bottom of the bass strap.
Seems like it works. Bass sits at the angle I want and my thumb no longer goes numb from holding the neck up
I've got one of these and it's easily adjusted, from either end. It's nicely padded and very comfortable. The adjustments are a bit different, but easy and you don't have to remove the strap to do them.
Will try and take some pictures later, really impressed by the quality. Of course I have my in person lesson today after work which probably means I'll forget, by I've got good intentions.