As much as I love my Ibanez 5 String, it was an "Ooooh pretty" buy. It was my first bass and I didn't even know if I would enjoy the switch to bass from guitar. Fortunately I did, but decided very quickly a four string was better to learn on.
I play it now and again, but mostly it sits in its gig bag. Have considered selling it, but I feel that may lead to even more regret down the road.
Very smart advice but in this age of instant gratification a lot of people just don't get it.



This right here. My first bass was a Rogue Beatle bass. Love the look, love the sound, hate the neck dive. Horrible to try and learn on because I was spending all my time trying to figure out to hold it. Bought a G&L L-2000 a few weeks later, and learning has become…well, not a breeze, but at least unblocked.
I used to research a bass online and then decide on the purchase, being somewhat far from a decent music store to actually try it. Being a senior cit', with carpal tunnel, arthritis and dupytrens contraction fingers, I can hardly play much anymore. So, I decided to try to build a bass, that would perhaps be easier on my mangled fingers to play. After a few attempts I seemed to get the hang of creating one, with low action, light tension, and light, nylon strings, all of which made playing easier, and I did get the bass I wanted. I am now 74, have 15 basses, 7 of which I did make, and, although I really don't have any major regrets for buying a bass without actually testing it in person, I get it. From a less than average talent player, neck radius, action, weight, feel (that's a rough one to categorize), resonation and just comforting playability…for myself, was and still is difficult to find in a bass. For those of you that are good players, with still good fingers, I both envy you and salute you. I find the bass a magical instrument. Metallica's "Nothing Else Matters" is a song that causes me to love all of my basses, even those I may have wished I gave more thought to, before I bought 'em. I finished Josh's course some time ago, follow all of you here (10-7 on the side, though), and enjoy the discourse. I included two of my favorite builds. I call them "The Black Knight and The White Witch". Both (to me) sound fine (the neighbors would have issue if I didn't play a lot of Motown). To me, there can't be a wrong bass, just not the right bass. Hats off to all and keep bringin' in "The Bottom"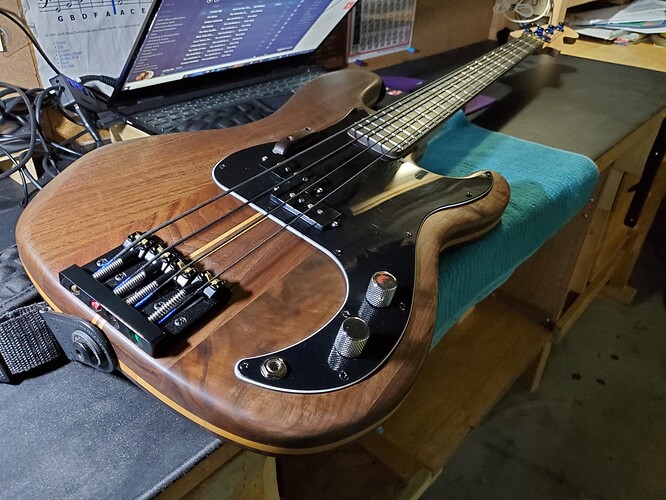 Congratulations on your dedication and achievements. Your basses are beautiful!
Every single one of us does what we can to play, and you are an inspiration. Keep on thumpin'.
Much appreciated. Thumpin would exactly describe it!
Very nice basses!
Of the two, visually, Black Knight is my favorite!
Beautiful walnut top there on the Black Knight

Like it a lot…
Gorgeous basses. Thanks for sharing them
This is cool.
You rarely (never?) see a bass with the seams going in the other direction like this, love it.
There is a story behind The White Witch. My son provided me two beautiful maple boards, each a 1x4 and one at 8' and the other at 10'. He indicated I should build something with them. I chose to cut them up, bond them together and make the bass entirely of maple. The wood is so tough to cut, sand and form; yet the end result was good resonation and tone (the quarter-pounders do help) and I chose to build a replica of an early 50's P-Bass style. The black walnut is a best. Nice tone but weighs more than my first blind date did. The maple bass isn't a lightweight, but has no neck dive at all. I seem to be cursed with that. Glad you enjoy them and happy to share. I did find that I can build a bass closer to what I am able to handle now than attempt to buy one (although the Fender American series still becons me).
If anyone suffers from hand problems, such as I described above, and has luck with certain "softer" strings or action, I would be so delighted and greatful to hear. Thanks much!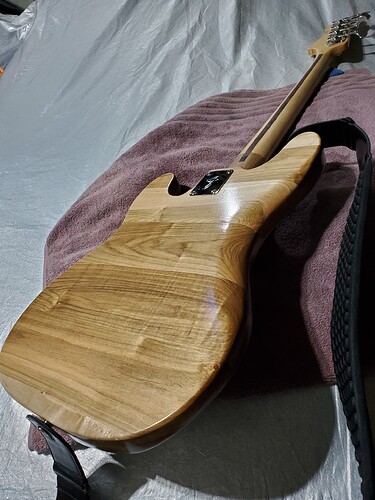 This is the back of the maple bass. The graining composition came out fairly well, and you can see the different board variations. Not standard, but its what I had to work with.
I have arthritis, and I find for flats Thomastik Infeld Jazz and D'Addario ECB81 Chrome flats easy on the tension, and for rounds DR Pure Blues
Here's my custom 54 P bass with Quarter Pound pickup. Like your style
Love your "54. It has a "soft" look, very appealing. Much appreciate the info on the strings. I will give them a look. Thanks again.
LaBella LTF (Low Tension Flats) might be another good string to try out.
DR Pure Blues, LaBella Lower Tension Flats, and Thomastik Infeld are all round core (as opposed to hex core). In general, round core will be lower tension than hex for a like gauge
Thomastik Infield Jazz rounds will ruin your fingers and hands. They are so low tension and easy to play. I have the flats and rounds on different basses. Along with DR, you can get really low tension strings that will sound great.
I haven't tried the TI Jazz yet, but I played my DQ bass yesterday with roto flats, and the roto felt like high tension wires. Put Pure blues on and fine now.
I may be down to TI Flats and DR PBs now
Good lord that is an amazing looking bass.
I wonder what it would look like with all black hardware and inlays, cool or too much