Hello all,
Yesterday I have tried to setup my new gal-pal but the bridge had a configuration much different from all the videos I saw online.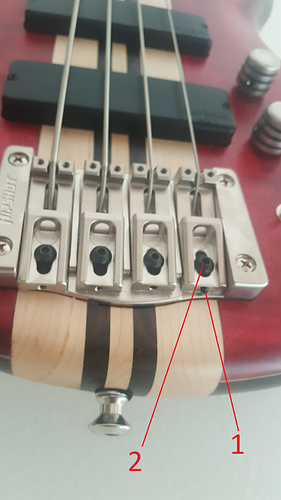 Initially I was expecting these nuts (lol!) marked as "1" to be moving the saddles front and back. But they don't move anything. The one for G String was about to fall out even (phew! talk about a lucky break!) so I think they are there just to lock the thing down.
When I loosened the larger screws marked with "2" the part should be able to slide forward and backward but because of the tension of the string keeping it down it does not… What I did was to detune the string but then I could only move it by hand and not gradually with a screw to have a precise setup.
I am a bit at loss here. Has anyone used these bridges or something similar?
Thank you!
Edit: Might it be that I have to move the mechanism all the way back, tune the string and move it by using that lock pin?