I'm about ready to order my P-bass body from Warmoth in a PJ configuration. I like P pickups, but occasionally I like to mix in some bridge pickup action.
I've got all my details worked out, except for the jack. When Squier built my 2002 PJ, they moved the jack to the butt of the body rather than leaving it in the pickguard: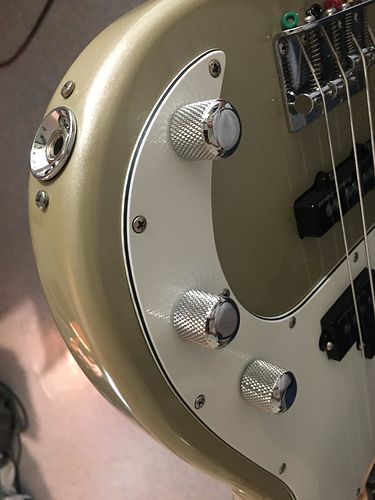 I thought it would be cool to have it in pickguard like a normal P or J bass, but for some reason Squier felt it should go up the butt end of the body. Surely it would be cheaper to not have to route for the jack that way-- but they did.
So as much as I'd prefer to have the jack in the pickguard, this bugs me a bit. Is there a consideration that I am missing? There's got to be a reason they did it this way. Maybe it simply desirable, although I find it awkward to jack up my bass blindly from below where I can't see.
Anyone have any thoughts on this?
In case anyone is looking at the pic closely and notices the two screws-- I have not idea why they are there. The cup jack was there when I bought it, and broken I might add. Replaced with it the Switchcraft Tele cup that you see in there now. The original cup was some Chinese knockoff a strange nuts size when I got it.