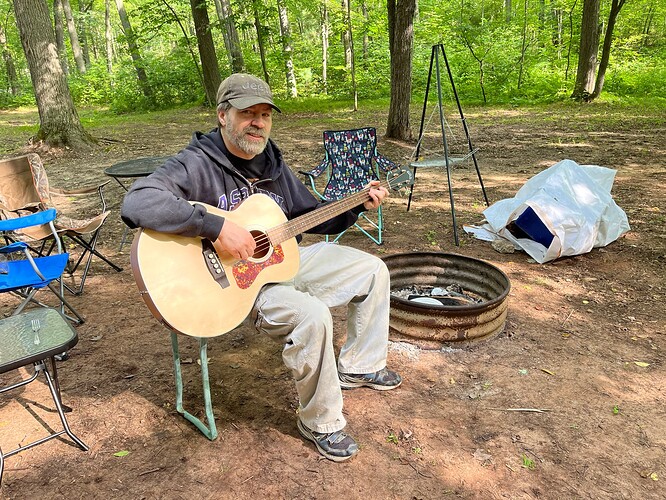 So I've been looking/researching acoustic basses. I adored how beautiful the MK Dragonfly looked, but then there is the whole 5-String and fretless option. So I tried out a Fretless Fender Jazz Bass and I really liked it yet realized I really need the fret lines or I sound awful with my sloppy fingers…so I determined I've gotta have a fretless. Then I tried a Fender Acoustic and I was amazed, I had read that they were too quiet. Next thing I'm browsing Sweetwater and came across the Guild 4-String. And Wow! I love it!
It is so nice not to have to plug in and flip the bass head on every time I want to mess around with the bass.
One problem, I've grown accustomed to the B string on my 5-String. So I start to wonder if I could Drop tune. I crank the strings down and…awful. The strings are too floppy and buzzing. So next thing I buy a set of strings. I get three strings on and start putting on the B string and every so lightly I feel it snap. You can't put a B string on this acoustic because the diameter of the pin on the tuning machine is too narrow.
Next I order a new half inch tuning machine from Hipshot. Only one though. They aren't cheap. Once I get the tuner it takes me about an hour to figure out how to install it without destroying my beautiful guitar.
Wow! I have to say that I am really pleased with it. The BEAD tuning is great. I did have and issue with the bridge pin popping out because I didn't seat the end of the B string properly. The extra girth of the B was a little much, but a little filing and it's all good now.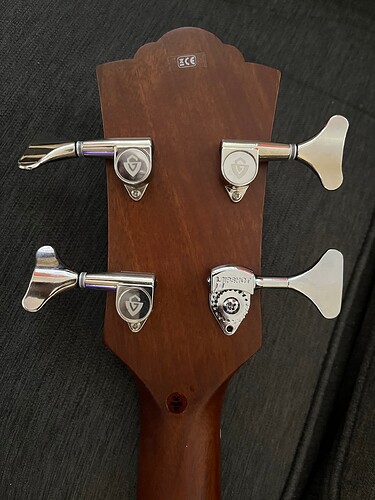 Eventually I'll get all matching tuners so strings set better…maybe, it doesn't seem to cause any issues. It does look a little funny. I suppose if I wanted to sell it, then I would have to. But why would I sell it?
One final thing: Having an acoustic, now I'm really concerned about humidity. The frets all sprouted on my other bass guitars last winter. Ouch! At least I don't have to worry about that issue. But cracking and splitting, yow! I work at a furniture factory and solid woods love to warp and crack if we don't keep it at 50%. So I got the D'Addario Guitar Humidifier Tracking - Humiditrak so cool! There's an app for that! Plus Zager Guitars has a humidification system that stops up the sound hole. They say it keeps it moist for a couple months at a time. We shall see how it fares this winter.