I don't think he realizes he is in the geriatric ward of the bass world.
Huh? What? Hey! Get off my rug!
(@chrisryanhebert: Seriously, welcome! This is an age-diverse community. Enjoy it.)
I've got socks older than @chrisryanhebert


when I first saw their post I did some quick math and was relieved that they can't quite be my kid.
Hi everyone, I'm Rodrigo, 32, and while I've been playing since 2009, I'm stuck, so i think a back to basics (as i am self-taught) is a must if I want to evolve as a player
Welcome, @Hroerek91. Glad you're here. Just follow Josh's lead and you'll be out of your rut in no time. Enjoy the badass lessons!
Welcome aboard @Hroerek91. Glad to have you here. I was/am from the self-taught side of things too.
Hello. I am Roy and live in Athens, TX.
I just finished the first module in 24 hours. I played bass in a band in Augsburg, West Germany, in the 80's as an Army brat. I played by ear and memorized bass lines. I never actually learned to play, and I really want to just be able to jam with friends or walk in cold and be able to hold my own. I left it go a long time ago, and now I want to learn the right way. I think this will really be perfect. Already just making adjustments to my fingering hand positioning has made a world of difference. And I understand the importance of alternate picking and am working hard to make myself do it correctly now.
I decided to get a bass again last year at 55. I bought a new Fender Jazz (Limited Edition American Professional Light Weight Ash) from a family member who had bought it but never played it. And it was beautiful, but it just didn't "feel right." Plus I just love a maple fretboard. So I bought a Geddy Lee Jazz, and I love it. He was my idol in HS along with John Entwhistle.
Thanks for the opportunity to learn how to do this right.
FYI- the Am Pro is for sale…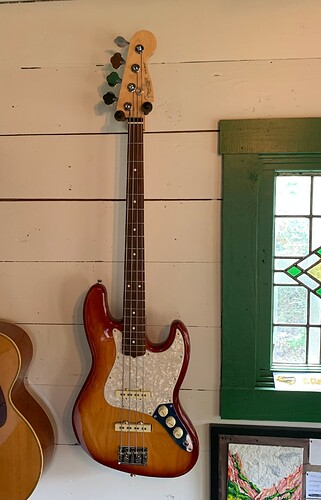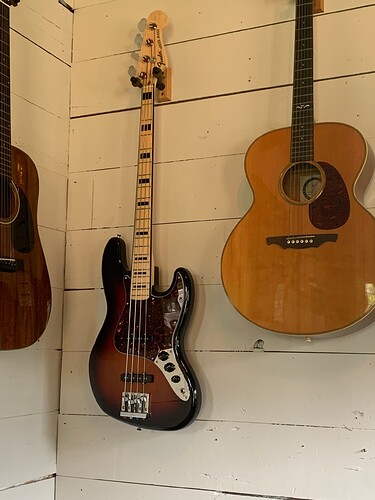 Welcome @roylclay. I think the course is going to deliver exactly what you are looking for. Have fun.
Thanks for the welcome, folks.
Welcome, @roylclay. Glad you're here. There are a bunch of us who have played bass in bands before life got in the way. Josh has the perfect approach for teaching/tweaking techniques to play properly. Enjoy!