Just had Santa from TNT deliver my Ibanez SR650.
I,m grinning like a fool and definitely a happy camper.
YAY!!!
Oooh, you'll love it! Show us pics!
Yes, where is the fresh porn!!! Congrats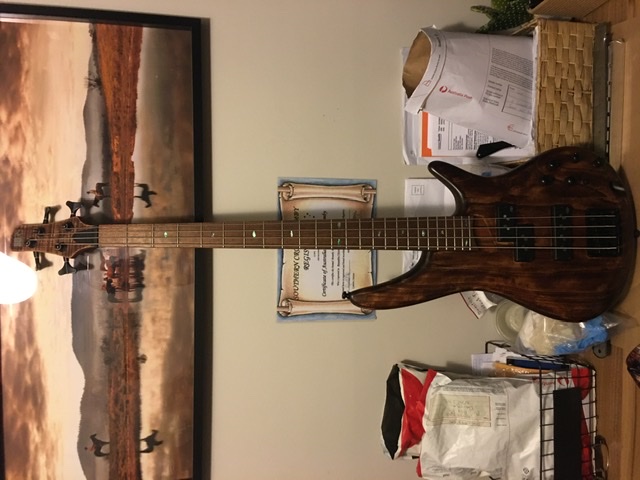 There you go .
Just fitted a set of Ernie Ball locking strap thingies and I can see me being occupied for a good few hours

Awesome, congrats again.
How do you like the locking strap things?
Thanks T_Dub


Jury is out with the locking thingies atm. Time will tell
Thank you

Thanks Howard

Just an update on the locking strap buttons.
So overall I really like them and find them very convenient instead of lifting the strap over my head when I've finished playing.
However, one word of warning. If you do get them make sure they snap in place properly as it is very easy to think they're attached when in fact they aren't!
That sounds like an Ouch!
Ouch!
I haven't tried the Ernie Ball locks. Both the Dunlops and the Schallers make a pretty audible click when locked though.
I like the look of the Shaller, I have not seen it side by side, but their Black Chrome might be the only match to the hardware on my ESP LTD's. I will order a set soon and make sure. If not it can go on my SR300.
I have the black chromes and they look great to me.
Luckily I had a hold of the neck as I stood up


The guy who's YouTube video I watched on fitting them did warn about it too
Beautiful bass, I just love instruments with natural wood colours, they look so classy.